Expanding the Scope of Practice and Allowing APRNs to Work to the Full Extent of
Their Training Would Substantially Address the 'Doctor' Shortage Facing Florida
In an historic move, the Speaker of the Florida House of Representatives today announced a Nurse Practitioner of the Day on the Opening Day of Regular Session – and for the first time in 29 years, the medical professional in the spotlight on Opening Day is a woman.
Nurse Practitioner of the Day Doreen Cassarino is a doctor of nursing practice from Naples. Her historic role on Opening Day is a nod to Speaker Jose R. Oliva's support for advanced practice registered nurses' independent practice across the state, a solution to the looming reality of physician shortages.
"By inviting an advanced practice registered nurse to see patients in the Legislative Clinic today, we acknowledge the vital role they play in ensuring the health of Floridians," Speaker Oliva said. "I am proud to support legislation this year to grant APRNs independent practice across our state to improve access to quality care for all, and allow these professionals to work to the full extent of their training and education."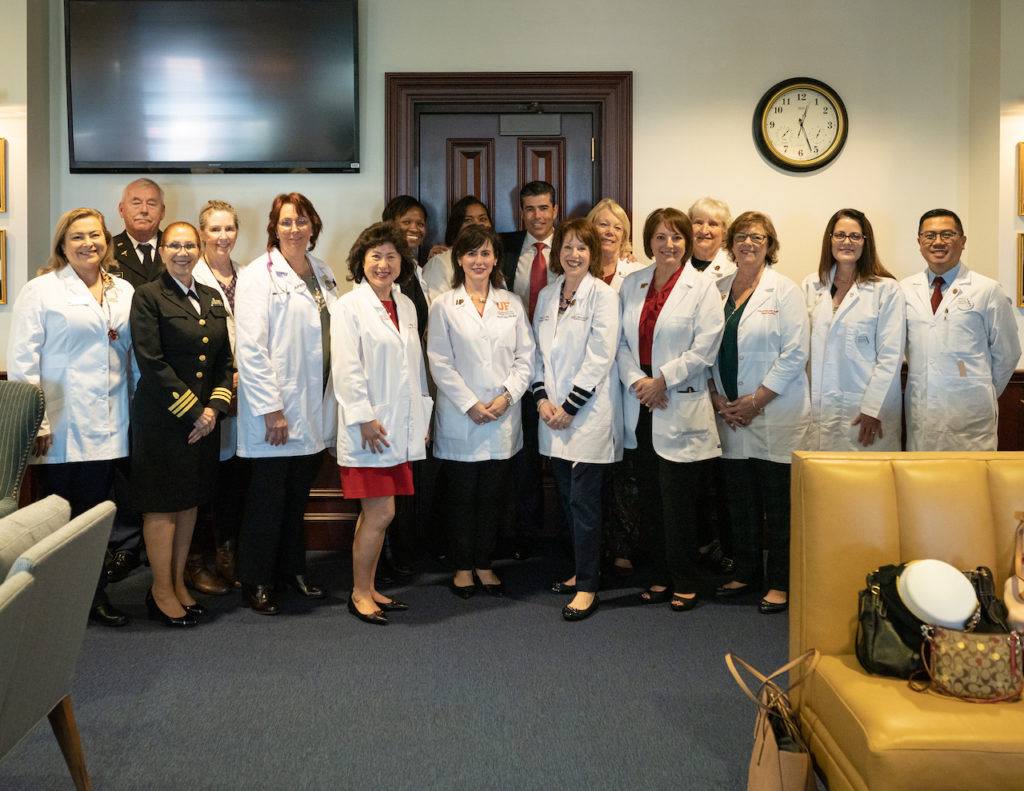 Today, there are more than 30,000 APRNs active across Florida – all with graduate degrees, many doctoral – trained to diagnose and treat illness and disease. They remain stifled in their ability to help patients because a physician must supervise them. House Bill 607, sponsored by Rep. Cary Pigman, R-Avon Park, would bring Florida in line with 30 other states that allow for independent practice, opening up more options for patients.
"Florida and the nation are both seeing shortages in the number of physicians – leaving an aging population in dire need of care if the crisis is not addressed," Oliva said. "We have been entrusted and empowered by the residents of our state to remedy this health care crisis, and we take this duty seriously."
Since the 1960s, the House has maintained a tradition of naming a Doctor of the Day — inviting physicians of all backgrounds including medical doctors, osteopathic doctors, chiropractors and others. In 2019, Speaker Oliva modernized tradition with Dr. Francis Salazar, a physician from Hollywood who participated via telehealth technology.
Cassarino's practice includes primary and specialty diabetes care. She holds several degrees, including a Bachelor's in Nursing from the University of South Florida, Master's in Nursing from Barry University, and a Doctorate of Nursing Practice from Florida Atlantic University.
Notably, throughout more than 50 years of the Doctor of the Day program, roughly 90 percent of the physicians who have served were men. The last woman to serve as the House physician on Opening Day of Regular Session was Dr. Kathleen Doughney, of Daytona Beach, in 1991.
"I am honored to be here today representing all of the nurse practitioners across the great State of Florida for the work we do each day for Florida families. I also thank House Speaker Oliva for supporting legislation this session that would allow APRNs the ability to practice to the full extent of our education and training," Cassarino said. "I am hopeful that members of the legislature can come together this year and pass this good bill that would help increase access to care for the betterment of Florida patients."
The Legislative Clinic administers the Doctor of the Day program. While the physicians of Florida have provided this voluntary public service each year since the program's inception, APRNs will continue to have opportunities to serve in this role throughout the 2020 Regular Session. Physicians and APRNs are responsible for their costs associated with participating in the program.