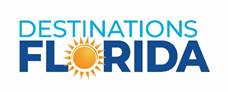 Destinations Florida, the unifying voice representing Florida's destination marketing organizations, today released a new report that exposes the need for Florida tourism marketing. The report, Destination Promotion: Empowering Florida's Growth, takes on the common misconceptions Florida's tourism promotion industry faces, including the argument that Florida doesn't need advertising, and that visitors will come no matter what. The report includes case studies that illustrate the disastrous economic effect of reducing or eliminating tourism marketing funding.
The report presents how destination promotion is powering Florida's growth, and is broken up into five main areas of focus:
Tourism Makes the Great Life We Enjoy in Florida Possible
Obstacles to Tourism Growth
Common Misconceptions About Florida Tourism
How Florida DMOs Attract More Visitors
Priming the Pump on Florida's Economy
"Tourism and tourism marketing are the reasons Florida residents don't pay state income taxes," said Robert Skrob, Executive Director of Destinations Florida. "Low taxes are a key economic driver for Florida. And, Florida's low taxes are funded by visitors who pay sales taxes while on vacation. However, Florida competes with 49 states and countries around the world that strive to steal our visitors to fund grow their own economies."
This week, Destinations Florida and its members joined VISIT FLORIDA for Florida Tourism Day and called on the legislature to fully-fund and reauthorize VISIT FLORIDA, the state's tourism promotion agency.
The full report is available digitally at www.EmpoweringFloridasGrowth.com.