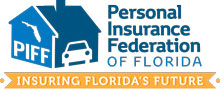 Litigation abuse is a challenge as Florida continues hurricane recovery
Florida's personal lines insurance market is still under stress from lawsuit abuse and hurricane recovery. One year since category 5 Hurricane Michael, packing 155-mile-per-hour winds, threw the people, land and economy of northwest Florida into disarray, the wounds are still fresh. Recovery is ongoing. Floridians are not only paying their share of the cost of recovery but also the cost of abusive litigation — attorneys in Florida are exploiting the one-way fee law and a "contingency fee multiplier" that continue to drive up the volume and costs of litigation.
Following years of litigation abuse and one of the worst storms in Florida's history, the Personal Insurance Federation of Florida (PIFF) is working with lawmakers in 2020 to promote policies that address the cost of claims, protect consumers and prevent harm to a recovering insurance marketplace.
"The residents and communities in Hurricane Michael-affected areas need our continued help," said Michael Carlson, president and CEO of PIFF. "If there is some good news, the numbers show most insurance claims are resolved. But as claims continue to come in, we must be mindful of ongoing litigation challenges in both the auto and property insurance markets. We need to address these stressors and will continue to promote policies that can reduce insurance rates."
PIFF's 2020 Legislative Focus:
TORT REFORM: Fighting for a consumer-friendly marketplace.
Contingency Fee Multiplier – SB 914 by Sen. Jeff Brandes, R-St. Petersburg
This year, PIFF is working with legislators to restore balance in the civil justice system by limiting the application of the attorney "contingency fee multiplier" to rare and exceptional cases. Attorneys are exploiting an outdated and unnecessary legal tactic to enrich themselves at the expense of insurance consumers. This is no longer allowed at the Federal level, yet today in Florida, attorneys taking on routine residential property claims are asking to be paid twice or even three times their hourly rate, not because they deserve it but because they can. And those costs are passed on to insurance consumers. It's time to end the abuse of the attorney fee multiplier.
Senate Bill 914 allows the fee multiplier to apply in rare and exceptional cases where it is difficult to find competent counsel. This law will have a very positive effect on the cost of claims in the property market over the long term.
Accuracy in Damages
SB 1668 by Senate President Pro Tempore David Simmons, R-Longwood, and HB 9 by Rep. Tom Leek, R-Ormond Beach
These bills create a new standard for determining medical damages arising from a personal injury or wrongful death case that reflects the true cost of such damages and prevents attorneys from inflating such damages in order to seek a greater recovery. The bills use a standard based on usual and customary charges or the amount that a commercial or governmental health insurer would pay for medical services and treatment. This way, juries will know what is usually paid for medical care. This will reduce the cost of personal injury and wrongful death claims.
Litigation Financing
SB 1828 by Sen. Doug Broxson, R-Pensacola, and HB 7041 by Rep. Tom Leek, R-Ormond Beach
These bills create a new regulatory scheme for litigation financing entities, with a goal of protecting plaintiffs who take loans from these entities during the pendency of a lawsuit. They will require consumer litigation financing entities to register with the state and provide increased disclosures to plaintiffs/consumers who take on high-interest loans to cover expenses incurred while they are involved in a lawsuit. Our ultimate goal is to prevent unnecessary lawsuits that could otherwise be settled but for the need for these exploited consumers to pay off debts using funds from any court judgment.
Lawyer Advertising
SB 1288 by Sen. Tom Wright, R-Port Orange
Senate Bill 1288 creates a new legal framework for lawyer advertising under the Florida Unfair and Deceptive Trade Practices Act, requiring additional disclosures and prohibiting the use of misleading terms or images. It is intended to protect consumers by making clear that lawyer solicitation advertisements are just that — solicitations — reducing  consumer confusion.
Bad Faith
SB 924 by Sen. Jeff Brandes, R-St. Petersburg
This bill includes several fixes to the insurer bad faith law. Florida has one of the worst judicial environments in the U.S., due in large part to its unregulated third-party bad faith system. Under Florida law, there is a strong incentive for claimants to game the insurance claim process in order to set up an insurance company for a bad faith lawsuit. In such suits, which are based on the assertion that the insurer acted in "bad faith" in handling a claim, there are unlimited damages. Recent court decisions have weakened the definition of "bad faith" to the point that simple errors by insurers can lead to multimillion-dollar judgments. The threat of a bad faith suit often leads insurers to pay more on claims than is warranted, and these costs are passed on to consumers.
To learn more about the Personal Insurance Federation of Florida, visit PIFF.net.
About PIFF
The Personal Insurance Federation of Florida, Inc. (PIFF), is a leading voice for the personal lines property and casualty insurance industry in Florida. PIFF represents national insurance carriers and their subsidiaries, including many of the state's top writers of private passenger auto and homeowners multiperil insurance. Together, PIFF members write more than $13 billion in premium in the state. PIFF advocates for a healthy and competitive insurance marketplace for the benefit of Florida consumers. Follow us @PIFFNews. Visit PIFF.net to learn more.