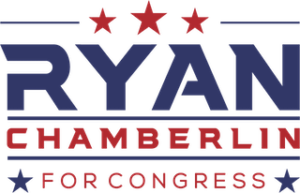 Political outsider Chamberlin will outline principles to safeguard the
long-term prosperity and security of America by pushing back against the
socialism and dysfunction caused by liberal leadership in Congress.
After months of encouragement and discussion with his family and business associates, Ryan Chamberlin announced that he has officially filed to become a Republican candidate to replace the retiring Congressman Ted Yoho.
"Ted Yoho was a leader who embodied what we need in Congress," said Chamberlin. "He pledged to serve for 8 years, and he did what he said he would do. Now, we need others in his same spirit of service to step forth, not to become a part of the Washington establishment, but to fight it, to break it down, and continue the effort to restore America as one nation under God, governed by and for the people."
Ryan Chamberlin is an Author, Speaker, and Consultant based in Marion County, Florida but serving businesses and CEOs nationwide. For the past 20 years, he has worked with thousands of entrepreneurs, assisting them in growing their influence and profitability through focused strategies of leadership, improved productivity and by revolutionizing their marketing strategies and corporate cultures.  
Ryan has worked with Success Magazine, speaks regularly at national conferences, and was featured recently at the Marion County TEDX Ocala as a guest speaker.
Chamberlin added: "I have repeatedly seen how great businesses become dysfunctional when the leaders of the organization develop an attitude of entitlement, let their egos affect their decisions, and when they spend their time on a personal agenda instead of the goals of the company. Right now, the United States Congress is dysfunctional, and it has become unresponsive to the people."
Although a political outsider, Ryan is certainly no stranger to political leaders. He co-wrote a book with the late relationship expert Gary Smalley titled The Rich You Formula, a book endorsed by former governor and Presidential candidate Mike Huckabee. Chamberlin is an admirer of the commonsense approach and anti-establishment sentiment championed by leaders like Huckabee and President Trump and will build his campaign accordingly.
"Under President Donald Trump's leadership, we have made progress, but he needs help in the US Congress," stated Chamberlin. "Too many in Congress have fallen short of their campaign promises, and as a consequence, taxing and wasteful spending are out of control. Federal agencies have become too powerful and intrusive, and the necessary items like the combat readiness of our armed services and border security are debated and debated with little real action. Instead of the federal government serving the people to help fuel the economy, they've added extra layers of bureaucracy that discourage job growth and entrepreneurism. It's really all a bunch of nonsense! We need less talk and real action."
Other than his business interests, Chamberlin's life has been dominated by his commitment to God and family. Ryan has been married to Jenny Chamberlin for 25 years. They met at Souls Harbor First Pentecostal Church in 1989, where they still attend today. They home-schooled their 4 children (all boys) Ryan A (23), Rey (19), Royce (18), and Regan (15). His drive to run for Congress has been largely motivated by concern for his sons' futures.
Chamberlin closed his announcement with the following:
"On this very day in 1789, the first Electoral College made General George Washington the first President of the United States. Washington had an America First agenda. His only ambition was to do what was best for the country. That is lacking in Congress today.
"I am running for Congress because I see a need for principled leadership, and I am motivated by my four sons and my concern for their future and the America that they will inherit from us. Never let it be said by the next generation that we shied away from the fight. America is worth fighting for." 
ON THE WEB:  www.RyanChamberlin.com
Paid for by Ryan Chamberlin for Congress