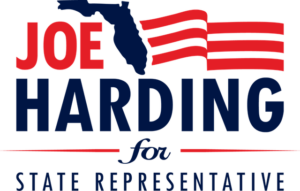 The Levy County Sheriff joins a long list of leaders
and organizations endorsing the Harding Campaign.
The Joe Harding Campaign today announced the endorsement of Levy County Sheriff Bobby McCallum in the State House District 22 race. Sheriff McCallum is a mainstay in both Levy County law enforcement and community leadership. He is a lifelong family friend to Joe and stands strongly behind the Harding Campaign. 
"Joe Harding has never compromised his conservative principles," said Levy County Sheriff Bobby McCallum. "Not only is he the right candidate for our first responders and community safety, he is the right leader to protect our life, liberty, and pursuit of happiness." 
Sheriff McCallum has been at the Levy County Sheriff's Office since 1969 when he began his law enforcement career as a dispatcher and jailer. Over his career, he has served as a Florida State Trooper, a Deputy Sheriff, a Sergeant, and a Chief Deputy. He was employed by the 8th Judicial Circuit State Attorney's Office as an Investigator and later served as Executive Director and finally as Director of Law Enforcement and Director of Administration. He was elected Sheriff and began serving in January of 2013. He has a Master's Degree in Criminal Justice from Nova University, a Bachelor's Degree in Physical Education from the University of Florida, and is also a Chiefland High School graduate. Sheriff McCallum is a two-term past President of the Levy County Chapter of the American Cancer Society, past co-chair of the Chiefland Cystic Fibrosis Foundation Campaign, and currently an honorary member of the Levy County Prevention Coalition. He has volunteered as a youth league and high school coach, has volunteered as a substitute teacher, and is a past chaplain of the Florida Intelligence Unit and past co-chair of the Northeast Florida Violent Crime Council. He is also a former Chiefland City Commissioner. 
"We stand with our first responders and support their mission to keep our streets safe," said Harding. "Sheriff McCallum is a dedicated community leader, and we are honored to have his endorsement."  
Sheriff McCallum joins the Gator Fire Council, the Professional Firefighters of Ocala, the Gainesville Professional Fire Fighters, Representative Stan McClain, the Levy County Firefighters, Levy County School Board member Ashley Clemenzi, Levy County Tax Collector Linda Fugate, Levy County Commission Chair Matt Brooks, Williston Mayor Jerry Robinson, Belleview Mayor Christine Dobkowski, and the Marion County Firefighters in endorsing the Joe Harding Campaign. 
About Joe Harding for State Representative
Joe Harding, a conservative Republican and seventh generation Floridian, is a small businessman who was born and raised in Williston. Harding's priorities are ending illegal immigration, outlawing sanctuary cities, and supporting agriculture. Also topping his agenda are defending Second Amendment rights, protecting all human life, and addressing skyrocketing health insurance and prescription drug costs. Harding learned the value of hard work and good stewardship of resources in his large family of eleven children, raised by his pastor father and homeschooling mother. While studying construction management at Florida International University, he worked multiple jobs to support himself, eventually working his way up into demanding project management roles. Currently, he owns and operates a lawn maintenance company and a horse boarding and training facility. Harding and his wife, Amanda, have four children. District 22 includes Levy County and part of Marion County.
ON THE WEB:  www.JoeHarding.net
Paid by Joe Harding, Republican, for State Representative