Hundreds gather in Tallahassee to support measures to mitigate
climate change and its effects on Florida's people and environment
Nearly 200 hundred people from across Florida today rallied at the Capitol to urge state legislators to take climate action. The demonstrators called for a ban on fracking, a transition to electricity generated by 100% renewable energy by 2050, plans for infrastructure more resilient to the effects of climate change, and more attention to the underrepresented communities most deeply affected by global warming's repercussions.
"Despite our nickname, the Sunshine State's solar power potential has been unrealized. In 2018, only 3 percent of Florida's electricity came from renewable energy. Our state needs to consider more measures that incentivize renewable alternatives," said Sen. Lori Berman of District 31. "I'm excited to bring forth SB 1290, which will remove a crucial barrier for schools switching to cost-saving solar power. By harvesting the untapped power of the sun in Florida's K-12 school facilities, we can lead new generations of young Floridians into a brighter, cleaner future."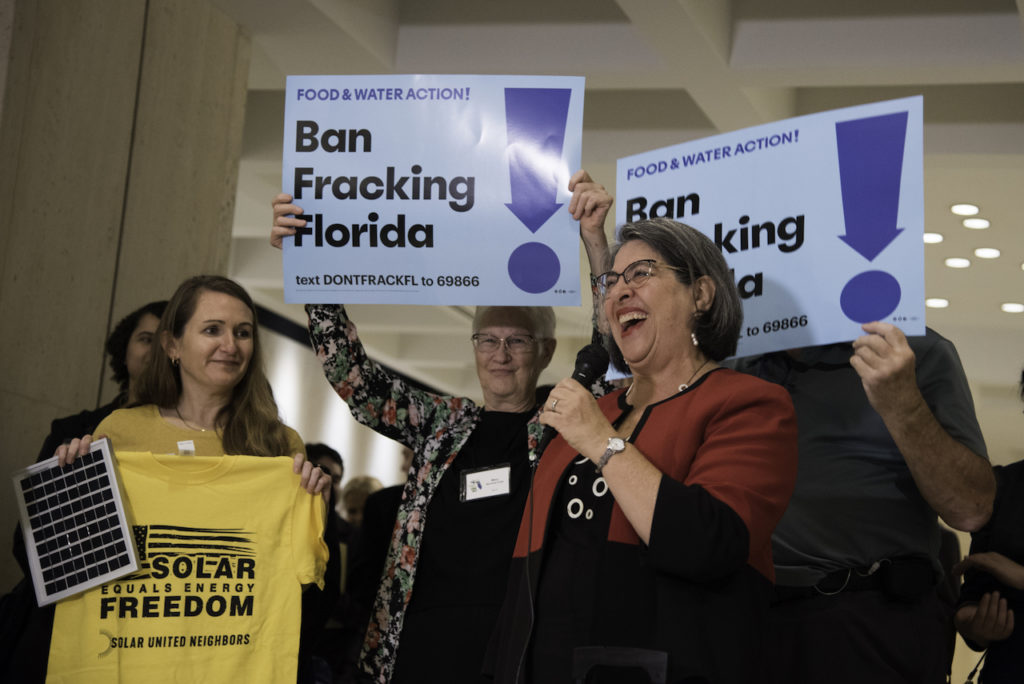 The Reclaiming Florida's Future for All movement provides an opportunity for Floridians to make their collective voices heard and call for a safe and sustainable future. Advocates are urging Gov. Ron DeSantis and the Legislature to tackle the major health,  environmental, and economic challenges caused by climate change with bold, yet common sense, solutions.
"Pollution, extreme weather, habitat loss — these are major threats to public health," said Gary Mousseau, a registered nurse from Port Charlotte. "We are excited to see legislation addressing extreme heat but there is more work to be done."
That's why so many Floridians spent the day in Tallahassee. The day of action kicked off with a rally and speakers, including Miami-Dade County Commissioner Daniella Levine Cava. The rally culminated in a line of advocates delivering nearly 1,000 promissory notes from Floridians asking to collect on Gov. DeSantis' past due promise to "[o]n day one…advocate to the Florida Legislature to ban fracking."
"Taking action to thwart climate change becomes more urgent each day. This year, there is great potential to pass effective climate legislation but we need our legislature to move!," said Kim Ross, Executive Director of Rethink Energy Florida. "Floridians are here making sure that legislators know where their constituents stand."
That constituency includes many young people concerned about their future. Elementary school students, high schoolers, and college students flocked to the state Senate Office Building after school for the Youth Caucus. There, they discussed the issues that are most important to them and the legislation proposed to address these issues.
Valholly Frank was one of those youth advocates. Frank was a high school freshman when she joined seven other plaintiffs in the Reynolds v. State of Florida lawsuit about climate change. The case was brought against the state of Florida, then Gov. Rick Scott, Agriculture Commissioner Adam Putnam, and several state agencies in 2018. Currently, the plaintiffs are waiting for a hearing date to be set on the motion to dismiss.
"Florida is one of the fastest-growing states, with an ongoing increase of college students, immigrants, Florida natives, and retirees from the North. We're all affected by climate change. And Florida, with its tropical location, lengthy coastline and minimal rise above sea level is much more susceptible to climate-related disasters than other states undergoing similar demographic changes," said Frank.  "Our legislators need to take strong action — and do it soon — to ensure a safe, resilient future for our people and our state."
FOR MORE INFORMATION ABOUT RECLAIMING FLORIDA'S FUTURE:
What: Rally and advocacy day urging state legislators to pass a clean and complete fracking ban, support renewable energy, and enhance resiliency and climate justice
When: Thursday, February 6th at 10:00 am
Where: Florida State Capitol, first-floor plaza, 400 South Monroe Street, Tallahassee, Florida 32301
Speakers:
Commissioner Daniella Levine Cava, County Commissioner, District 8
Gary Mousseau, Registered Nurse from Port Charlotte
Valholly Frank, youth plaintiff in climate lawsuit against the State of Florida, from the Big Cypress Reservation
Visuals: More than 200 conservation, social justice, and health advocates, colorful signs, banners, and an oversized promissory note
Reclaiming Florida's Future for All and the associated rally are organized ReThink Energy Florida, Floridians Against Fracking, Environment Florida, CLEO Institute, Food and Water Action, Earthjustice, Florida Student Power Network, Foundation for Florida Environmental Protection, National Nurses Organizing Committee, Organize Florida, Physicians for Social Responsibility – Florida, Rethink Energy Action Fund, Sierra Club – Florida, Solar United Neighbors Florida, Southern Alliance for Clean Energy, Vote Solar, and more.