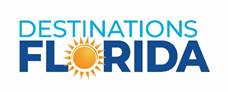 Destinations Florida, the unifying voice representing Florida's destination marketing organizations, today delivered Valentine's Day cards to members of the Florida Legislature warning them of the risks associated with eliminating VISIT FLORIDA. Without the efforts of the statewide tourism promotion agency, Florida's tourism competitors are poised to attract visitors away from the Sunshine State.
"Tourism is an increasingly competitive global industry. We're not only competing with other states, but also with destinations all around the world. Potential visitors to our state have many options from which to choose – many of those destinations can also boast year-round sun and beaches, and many of them are far more affordable especially for international travelers," said Robert Skrob, Executive Director of Destinations Florida. "Our competing destinations would love nothing more than to see VISIT FLORIDA eliminated, which would clear a path for them to steal visitors currently looking at Florida as their vacation destination."

In its recent report, Destination Promotion: Empowering Florida's Growth, Destinations Florida highlighted case studies that illustrate the disastrous effects of eliminating state tourism promotion functions.
When Colorado eliminated its state tourism agency, there was an immediate loss of $1.4 billion in revenue, which grew to $2.4 billion. After eliminating state tourism promotion, Colorado dropped from first place among states in the summer resort segment to 17th. While the Colorado brand was previously synonymous with ski vacations, Utah took advantage of the elimination of Colorado's tourism promotion to establish itself as a premium ski destination.
After the State of Washington shut down its state tourism promotion office, neighboring state Montana increased its tourism promotion budget by 30 percent. Traveler spending in Montana grew 70 percent faster than in Washington.
Florida needs visitor-generated sales tax revenue to maintain its current tax structure, keep taxes low for residents, and to continue to offer existing programs and services. According to the Florida Legislature's Office of Economic and Demographic Research (EDR), the most recent sales tax forecast relies heavily on strong tourism growth. It also identifies tourism-related revenue losses as the greatest potential risk to Florida's economic outlook.
VISIT FLORIDA enables the state to effectively promote the Florida brand more broadly on the national and international levels while supporting the state's small and medium-sized markets' efforts. The combined efforts of VISIT FLORIDA and local tourism promotion organizations maintain a healthy tourism industry, which in turn, contributes to healthy state and local economies.