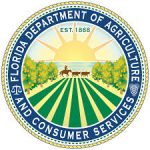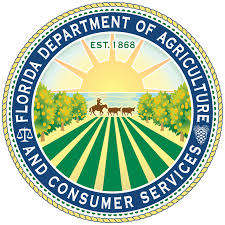 Agriculture Commissioner Nicole "Nikki" Fried was today joined by local elected officials and advocates to highlight a $250,000 energy efficiency grant project. Joining Commissioner Fried were Oakland Park Mayor Matthew Sparks, Oakland Park City Commissioner Tim Lonergan; Broward County Commissioner Lamar Fisher; Alica Brown, Senior Vice President of Philanthropy and Communications for the Urban League of Broward County; and Heidi Richards, Chief of Staff for Broward County Mayor Dale V.C. Holness.
The Florida Department of Agriculture and Consumer Services' Office of Energy awarded a grant to the City of Oakland Park to retrofit energy efficient LED lighting at Wimberly Fields Park. The grant, completed in October 2019, removed and replaced 186 existing lights with 78 energy efficient LED lights and a smart control system at the park's baseball and soccer fields. By reducing lighting wattage by 127 kilowatts and 61 percent, the City of Oakland Park will save $819,787 over 25 years.
The grant was part of the FDACS Office of Energy's Small Community Energy Efficiency Lighting Grant Program, which awards funding to cities under 50,000 residents and counties under 200,000 unincorporated residents. Projects include indoor and outdoor lighting in community facilities such as libraries, parks, museums, and community centers. In South Florida alone, the program has provided $75,000 to upgrade the Tennis Center in Cooper City, $225,000 for Royal Oaks Park in Miami Lakes, $199,000 for Coral Reef Park in Palmetto Bay, $86,000 for Cutler Ridge Park in Cutler Bay, and 53,000 for the Community Center Gym in North Palm Beach, and projects in other communities.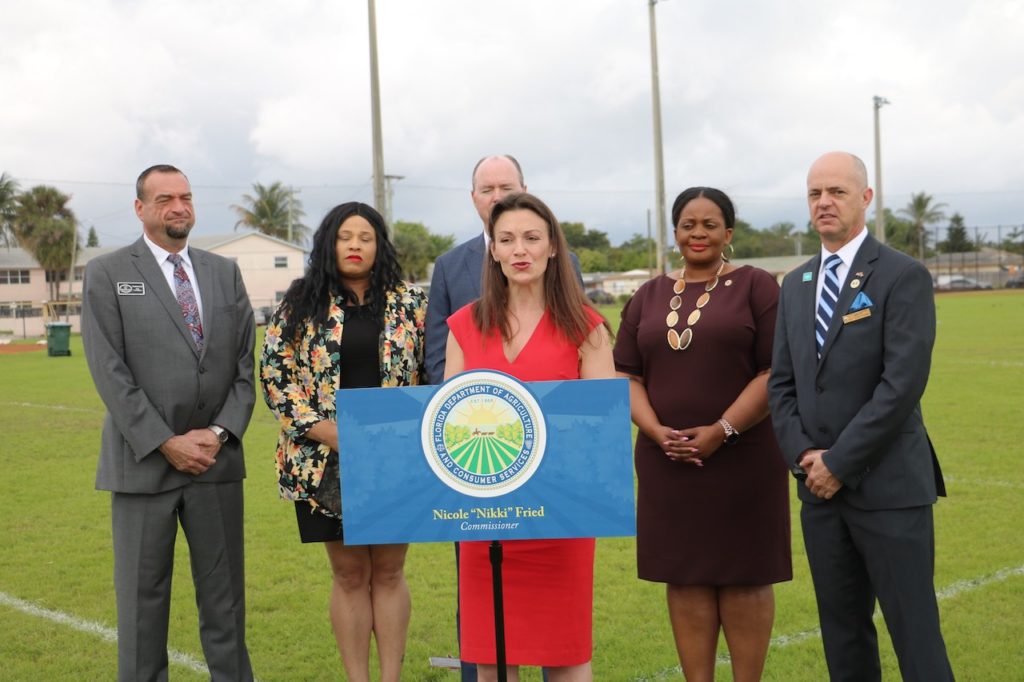 "This local project conserves energy and saves taxpayer money, and is just one example how our Office of Energy is working well – and why it should stay in our department, its home for the last decade. In just the past year, we've hosted the first state-level summit to address climate change since 2008, and released the first statewide energy and climate action plan in a decade," said Commissioner Nikki Fried. "Now that the Office of Energy is working well, some want to strip it away from our department. Let me be clear: there are no cost savings, no efficiency gains, and no good reasons to do this – just a partisan power grab. We will continue doing the good work of moving Florida forward on energy efficiency and the climate crisis."
"I'd like to thank the Commissioner for the grant, and for our citizens as well for the money-saving portion of it. I speak for myself as a mayor, as well as other mayors who have gotten behind Commissioner Nikki Fried, to keep the Office of Energy under her control," said Mayor Matthew Sparks. "We feel strongly about it, and as she said, there is no good reason to remove this office from the Department of Agriculture and Consumer Services. We look forward to lighting up Oakland Park and saving money."
Last week, the Florida House of Representatives voted to strip the FDACS Office of Energy from under Commissioner Fried, and transfer it to under Governor Ron DeSantis and the Department of Environmental Protection. The Palm Beach Post agreed this effort is a "partisan power grab," the Miami Herald opined "it doesn't benefit the public," the Gainesville Sun noted "Fried has re-energized the office since becoming agriculture commissioner a year ago, making a priority of energy efficiency and renewable energy," and the Panama City News Herald said "it's not hard to ascribe political motives for DeSantis' effort to grab the Office of Energy for himself."
Since taking office, Commissioner Fried has revitalized the FDACS Office of Energy, empowering the office with new focus on energy efficiency, climate change, and low-income energy equity. Under Fried's leadership, the FDACS Office of Energy has highlighted the need for improved energy efficiency standards, hosted the first statewide summit to address climate change since 2008, and released the 76-page Florida Energy and Climate Plan. Fried and state lawmakers also announced ambitious energy and climate legislation, which has not received hearings in the Florida House or Senate.
Since being transferred to FDACS in 2011, the Office of Energy has administered $158 million in state and federal funds for energy efficiency and renewable energy programs, including energy efficiency upgrades for small and rural local governments. The Office of Energy has also provided hundreds of free energy and water audits for Florida agricultural producers.