The Flagler College Women of Vision Advisory Board has announced that Jessica Clark, award-winning journalist and anchor of First Coast News on ABC 25, will serve as a panel moderator for the sixth annual Power of the Purse fundraiser. The signature annual event hosted by the Women of Vision is scheduled for May 7 with the theme "Carrying the Legacy Forward – Reflecting on 6 Years of Impact."
As in previous years, the event will include a silent auction of designer handbags and luxury accessories, a raffle of fine jewelry and a luncheon in the stunning and historic Ponce de Leon Hall at Flagler College. Funds raised will support scholarships and educational program for deserving women attending the college.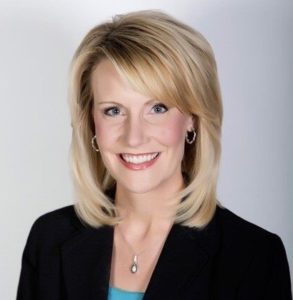 "Instead of having a traditional guest speaker at the Power of the Purse luncheon, we will feature a panel of past scholarship recipients," said board Chair Kathi Keller. "They will share with us how Women of Vision scholarships have positively impacted their lives."
Jessica Clark reports from the First Coast News Southern Bureau, located in St. Augustine, where she resides. She has won four Emmy awards, covering St. Johns County since 2005, longer than any other local television reporter in the market. Clark has covered hurricanes, floods and tornadoes, as well as presidential visits. Although she has interviewed entertainers, former presidents and presidential candidates, she is just as comfortable interviewing locals about issues which impact their lives.
"I am greatly looking forward to being part of this year's Women of Vision Power of the Purse luncheon program," said Clark. "The success of this fundraiser since it began in 2014 is most impressive, and it is for a most worthy cause."
The Women of Vision Advisory Board is currently seeking sponsors for the 2020 event. Power of the Purse luncheon sponsors: Diamond, ruby and citrine level donors, as well as media sponsors and in-kind sponsors. All levels will be recognized for their generous support on the Women of Vision website, in various media coverage and all marketing materials.
For more information about purchasing sponsorships or supporting the Women of Vision Fund, visit flagler.edu/wov.
About Flagler College
Flagler College is a small private, independent college located in St. Augustine, Fla. The college offers 34 majors, 41 minors, and a master's degree in Education of the Deaf/Hard of Hearing. Flagler College has an enrollment of about 2,500 students, as well as an offsite campus in Tallahassee, Fla. U.S. News & World Report and The Princeton Review regularly feature Flagler as a college that offers quality education at a relatively low cost. A Flagler education is less than half the cost of similar private colleges, and competitive with many state universities. A relatively young institution (founded in 1968), Flagler College is also noted for its historic beauty. The centerpiece of the campus is the former Hotel Ponce de Leon, a National Historic Landmark opened in 1888 by railroad pioneer and Standard Oil co-founder Henry M. Flagler. For more on Flagler College, visit www.flagler.edu.