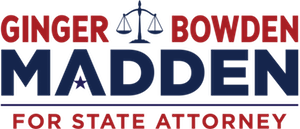 The distinguished list of law enforcement professionals cite her experience and values.
The Ginger Bowden Madden for State Attorney Campaign today announced the endorsements of former First Circuit State Attorney Curtis Golden, Okaloosa County Sheriff Larry Ashley, Santa Rosa County Sheriff Bob Johnson, Walton County Sheriff Michael Adkinson, and former Okaloosa County Sheriff Larry Gilbert. 
"I am deeply honored by the public support of these respected law enforcement leaders," said Ginger Bowden Madden. "As a career prosecutor, a lifelong Panhandle resident, and as a mom, the safety of our neighborhoods and our families is my first priority. I look forward to being advised by and working with these leaders to help me in that mission of keeping the Panhandle Florida's safest community." 
In February, Ginger Bowden Madden announced that she was seeking to replace State Attorney Bill Eddins, who is retiring. Bowden Madden has served as an assistant state attorney for over 25 years prosecuting cases in every division of criminal court—circuit, county, and juvenile court. In that position, she supervised assistant prosecutors serving in county and juvenile courts. She is especially proud of her time serving as lead prosecutor in several innovative programs to include Florida's first Veterans Treatment Court, which she helped establish with retired Judge Patt Maney. 
"Ginger Bowden Madden is a dedicated, career prosecutor with the experience and values to lead our office of State Attorney," said former State Attorney Curtis Golden. "She's a true professional and will always put people first as she works with our sheriffs, police, and other law enforcement agencies to keep us safe." 
ON THE WEB:  www.GingerBowdenMadden.com
Paid by Ginger Bowden Madden, Republican, for State Attorney