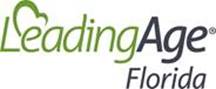 For LeadingAge Florida and its member senior living communities, a broad range of efforts to prevent the infiltration and unintentional spread of the coronavirus within their campuses have been underway for more than two months.
They have been checking the body temperatures of staff and residents daily, monitoring even the slightest changes in residents' health conditions, restricting visitors, cancelling events and activities, and communicating with residents and their families daily about these and other steps.
"Some of our members began taking steps in January to prevent the spread of coronavirus," said Steve Bahmer, President and CEO of LeadingAge Florida. "In many cases, our members were temperature-checking residents and staff, and taking numerous other preventive steps, well in advance of any directive to do those things."
LeadingAge Florida is the state's only association that represents the entire continuum of care for older adults, with more than 250 organizations and more than 500 buildings among its membership. Its members include affordable housing providers for low-income seniors, assisted living and memory care facilities, nursing homes, and continuing care retirement communities.
The breadth of seniors served in those settings – from active older adults in independent living to the frailest elders in nursing homes – has meant LeadingAge Florida members have been working hard to protect their communities while simultaneously deploying creative methods such as Skype, WhatsApp, Google Duo and iN2L to avoid the detrimental effects of isolation.
"The health and well-being of our members' residents and staff has always been, and continues to be their top priority," Bahmer said. "They have closely followed all CDC guidelines and state orders regarding screening, restricting visitors, shutting down common areas and group activities, and urging independent living residents to stay in their homes, among other things. At the same time, they're optimizing the use of technology to keep residents connected to their neighbors on the campus and loved ones across the world."
While some services have been reformatted as preventive measures, LeadingAge Florida members have ramped up other approaches to continue providing the highest level of service to their residents. They have been innovative in extending normal living activities, such as in-home dining, grocery and pharmacy pick-up with delivery services to their door, extending wellness care services to residents using telehealth, launching in-home fitness programs using in-house television, and finding ways to reduce stress and anxiety older adults may be feeling.
"The incredible work that our members are doing is a testament to the quality of their leadership and the commitment of their truly heroic staff," Bahmer said. "They are doing everything they can in the context of this pandemic to ensure the physical, mental, and spiritual health of their residents and staff."
LeadingAge Florida has hosted daily conference calls for all of its members since early March to deliver the latest information from the CDC, the Centers for Medicare and Medicaid Services (CMS), and state agencies, and to share innovative practices members have developed to help seniors continue to thrive.
Meanwhile, the association continues to work closely with the Governor's office, the Florida Department of Health, the Department of Elder Affairs, the Agency for Health Care Administration, and other state agencies to monitor COVID-19.
"The virus can spread very quickly, and despite the outstanding efforts of the professionals in our field, it has, and likely will continue to find its way into senior living communities," Bahmer said. "Our members will continue to take every step necessary to protect the health of their residents and staff, and they are prepared to provide the next level of care as well."
Many members have already created transition units to care for residents who test positive for the virus, creating separate spaces for those residents and dedicating staff to their care.
"Their protocols are in place, their COVID-19 units are ready, and they are prepared to provide the care residents need and deserve," Bahmer said. "Our members are embracing these seniors and providing the highest quality of care at a time when they need it most."
Established in 1963 as a Florida not-for-profit corporation, LeadingAge Florida is committed to assisting its members in achieving excellence as providers, businesses and employers. The Association provides up-to-date regulatory information, a wide variety of educational opportunities, representation before the Legislature and government agencies, group purchasing services, and opportunities for networking with peers.