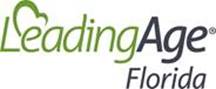 LeadingAge Florida has long supported disclosing the location of confirmed cases of COVID-19 and applauds Governor DeSantis for making the right decision in the interest of public health and the safety of Florida's seniors.
COVID-19 remains a rapidly-spreading virus with known community spread and because of this, transparency regarding the locations and names of facilities where cases have been confirmed is critical to public health and safety.
The health and well-being of residents and staff at senior living communities across the state has always been, and continues to be, our members' top priority.
Our members have been extremely proactive with heightened prevention strategies since January, including screening and temperature checking residents and staff, as well as closely monitoring every resident for changes in their condition, among numerous other steps. Their staff are well trained in infection control practices, and they have been carefully following CDC guidelines and protocols.
Additionally, LeadingAge Florida has hosted daily calls with our members for more than a month to ensure that they have the latest information and guidance, and to provide them with continuous, immediate access to our infection control and clinical experts.
Established in 1963 as a Florida not-for-profit corporation, LeadingAge Florida is committed to assisting its members in achieving excellence as providers, businesses and employers. The Association provides up-to-date regulatory information, a wide variety of educational opportunities, representation before the Legislature and government agencies, group purchasing services, and opportunities for networking with peers.