Florida A&M University's Bragg Memorial Stadium have hosted many epic gridiron battles over the years. Beginning Saturday, April 25, Bragg will be the site of a walk-up COVID-19 testing site to assist Tallahassee's Southside community in the fight against the pandemic.
The testing site at the stadium parking lot is scheduled to operate for 14 consecutive days from 9 a.m. to 6 p.m. daily. Organizers plan to conduct a maximum of 200 tests – including walk-ups and appointments – per day. Testing is free and open to the public. No physician referral is required.
FAMU and the Bond Community Health Center are organizing the testing site, with logistical and other support from the Florida Department of Health and the Florida Department of Management Services. The Leon County Health Department is also a partner and will be involved in the follow-up.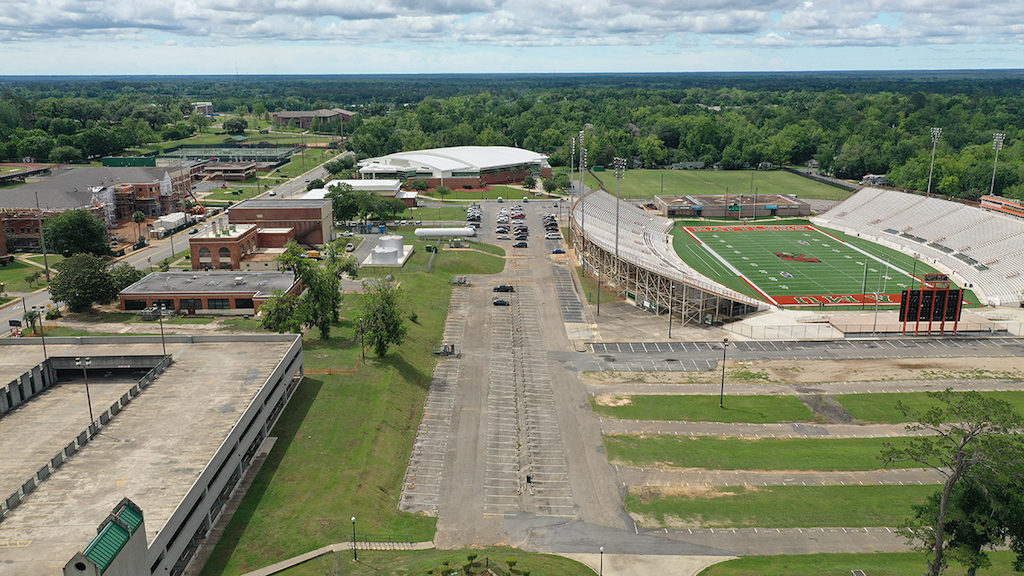 Photo by Gerald Tookes
"It's important that we provide this vital service to the community. The Southside leadership and community are so happy we are doing this," said Cynthia Harris, Ph.D., FAMU associate dean for Public Health, who is coordinating the overall effort.
"What we are doing is within the mission of FAMU and the Bond Community Health Center," said Harris, who is also director of the FAMU Institute of Public Health. "This is a huge team effort. I am elated to see the outpouring of support."
Residents who believe they have COVID-19 symptoms can make an appointment or walk up for testing. Beginning noon Thursday, residents can call 850-404-6399 to register for an appointment. Organizers recommend that all who are tested should self-quarantine for 14 because they identified as being symptomatic.
The Health Department will notify individuals who have tested positive for COVID-19, while the Bond Community Health Center staff will call those whose tests are negative. Results will be provided in a least three days from when the lab receives the specimen, organizers said.
Tanya Tatum, director of FAMU Student Services is coordinating logistics, while Bond Community Health Center CEO Dr. Temple Robinson, MD, is in charge of clinical services and registration.
"Bond is proud to be partnering with FAMU and the Tallahassee community," Dr. Robinson said.  "This testing site is another way we are living our mission—to provide access to quality health care for all people in our community. We're all in this together."
Several dozen members of the National Guard will be present to handle specimens and to assist with logistics. Centers for Disease Control and Prevention (CDC) guidelines on social distancing and other precautions will be strictly enforced. Individuals who come for testing are asked to wear their face masks. Congregating will not be allowed.
Organizers are asking for physicians, nurses and other licensed health care professionals to assist at the site. To volunteer email [email protected] or [email protected].