Scores of residents, some from as far as Alabama and Georgia, converged on Florida A&M University's Bragg Memorial Stadium for the first weekend of walk-up COVID-19 testing.
On Saturday, 199 tests were conducted, 191 on Sunday. The daily maximum is 200 tests.
"People arrived as early as 7:30," Cynthia Harris, Ph.D., director of the FAMU Public Health Institute, said of the Saturday opening. "There was enthusiasm about the testing. People were resolute. People were practicing social distancing. They had on their masks," Harris added. "Once they got the test, they realized it wasn't as bad as they thought it would be."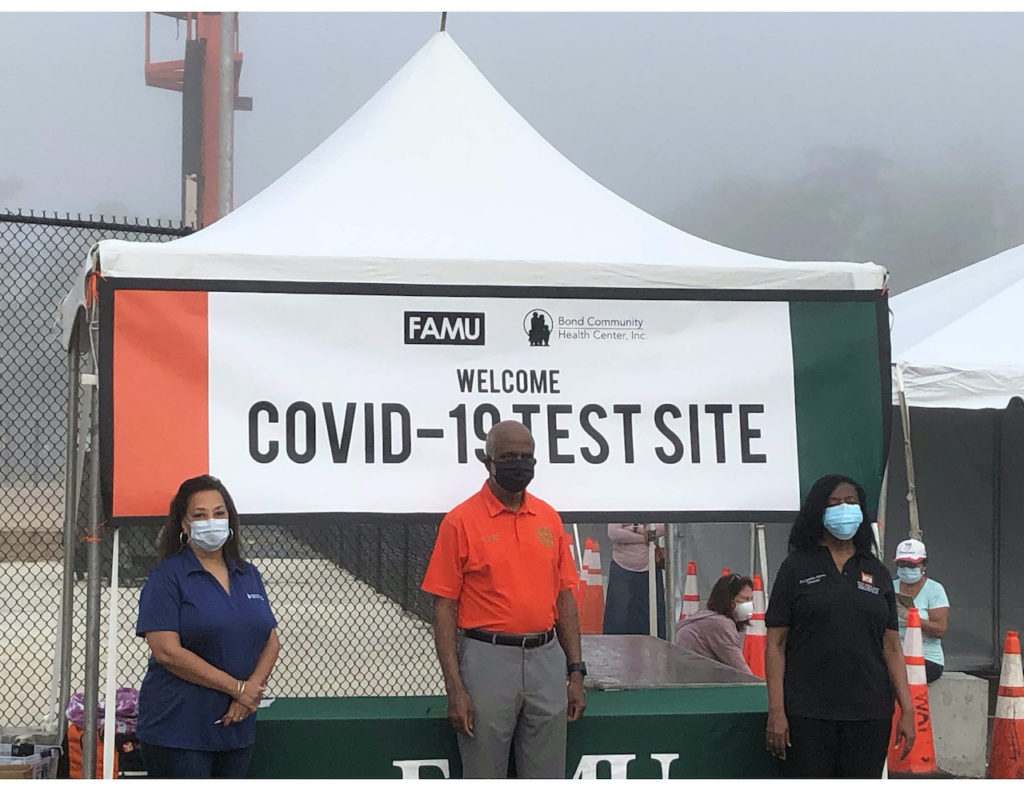 (From left) Bond CEO Dr. Temple Robinson, FAMU President Larry Robinson, Ph.D., and Cynthia Harris, Ph.D., director of the FAMU Institute of Public Health, at the opening of the COVID-19 testing site.
Individuals and couples started lining up at 8 a.m. Saturday, an hour before the site was scheduled to open. By 10 a.m. 40 people had been tested. The final test, No. 199, was administered at 2:40 p.m. One late appointment was a no-show. Only two of the 63 people who scheduled appointments failed to show up.
"Today was a grand success. We didn't have any catastrophes or emergencies," Dr. Temple Robinson, MD, CEO of Bond Community Health Center, said of the opening day.
"There were some glitches. It was all good," Robinson added. "We were able to adapt and make change quickly. That line really moved well. We were getting people through."
The site will operate for at least 14 consecutive days. Testing begins 9 a.m. daily and will continue until the staff conducts 200 tests. Of Florida's four walk-up testing sites – one in Duval and two in Broward County – the FAMU location was the only one to reach its testing capacity Saturday, according Lt. Col. Michael Adler of the Florida National Guard.
"It was a blue-ribbon day," he said.
While the site accommodates walk-ups, residents are encouraged to make an appointment by calling 850-404-6399. Going forward, appointments will be booked no later than 1:30 p. m. Those with appointments should arrive no more than 15 minutes early to avoid waiting and congregating.
The site is for those who believe they have COVID-19 symptoms. Testing is free. No physician referral is required. Test results should be returned in a minimum of 72 hours. The Leon County Health Department will notify those whose test is positive, while Bond staff will call those whose test is negative.
"It's really huge for the community that we are here in the southside of Tallahassee offering this opportunity to come and get tested for COVID-19," said FAMU President Larry Robinson, Ph.D., who visited the site for the kick-off early Saturday. "It's designed to make it convenient for all individuals. We have a diverse group of individuals here at this venue- from Tallahassee, from Georgia. We also have people who signed up from Alabama."