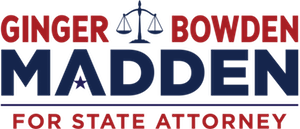 The qualifying deadline has passed, and Bowden Madden is unopposed.
Ginger Bowden Madden confirmed that she is unopposed in the election to become State Attorney for the First Judicial Circuit. Because there are no other candidates in the race, she will take office in January 2021 as the next State Attorney.
Bowden Madden released the following statement:
"I am deeply honored by the community support I've received. We have a great opportunity before us and a tremendous responsibility to the people of these four counties.
"My plan for this important office is simple: to put dangerous criminals behind bars and keep our neighborhoods safe. Our courageous law enforcement and first responders have the important first step to maintain our safety, and it is the State Attorney's responsibility to see that work through to its proper conclusion. I look forward to working with all leaders throughout the Circuit to promote safe and prosperous communities and to ensure justice for all.
"It is impossible for me to adequately express my gratitude to the grassroots leaders and donors who stepped up to the plate in a big way in the first four weeks of our campaign. I also want to thank the many local electeds from the First Circuit who endorsed our campaign and made it clear that their support was with us. I am confident that had everything to do with our victory.
"I now look forward to serving all the people of the First Circuit in this important role, and I trust that together we will continue to keep Florida's Panhandle as the best community in America."
ON THE WEB:  www.GingerBowdenMadden.com
Paid by Ginger Bowden Madden, Republican, for State Attorney