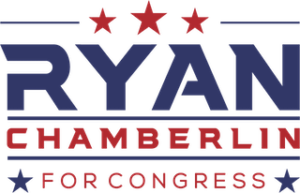 The Ryan Chamberlin for Congress Campaign today announced his Alachua County leadership team consisting of the following:
Dustin Busscher, General Contractor, Author, and Minister
Richard Chamberlin, Attorney and former Georgia State Representative
John Darr, Partner at Darr Schackow Insurance
Rocky McKinley, Newberry City Commissioner and Lead Pastor at Destiny Community Church
Jimmy Toney, Lead Pastor of the Pentecostals of Gainesville Church
"I want to thank these Alachua County leaders for what they do in their community every day and what they have committed to do for our campaign," said Ryan Chamberlin. "Like me, they share my deep love for this country and loyalty to the constitution, and I look forward to working with them for victory and the opportunity to send Nancy Pelosi back to California for good."
Chamberlin just finished qualifying to be on the ballot and announced that he had raised over $100,000 in his first 6 weeks of serious fundraising.
In his endorsement, Commissioner Rocky McKinley said, "Ryan Chamberlain is an outsider, a successful businessman, and conservative to the core. I especially appreciate his willingness to fight for those that can't fight for themselves. His desire to stand up for the unborn gives me hope for America's future."
For the past 20 years, Ryan and his wife Jenny have worked with thousands of entrepreneurs, assisting them in growing their influence and profitability through focused strategies of leadership, through improved productivity, and by revolutionizing their marketing strategies and corporate cultures. Ryan has worked with Success Magazine, speaks regularly at national conferences, and was recently featured at the Marion County TEDX Ocala as a guest speaker. In 2010, Ryan authored his first book titled Now You Know, a book to help entrepreneurs build better teams through common sense principles that focus on growth.
ON THE WEB:  www.RyanChamberlin.com
Paid for by Ryan Chamberlin for Congress