The Florida A&M University-Bond Community Health Center COVID-19 Testing site continues to grow.
On Friday, the site increased its daily capacity to 300 tests. Organizers announced Monday the site will continue in operation until at least through May 14. It may be extended longer on a weekly basis, depending on the traffic, said Cynthia Harris, Ph.D., director of the FAMU Public Health Institute and one of the organizers.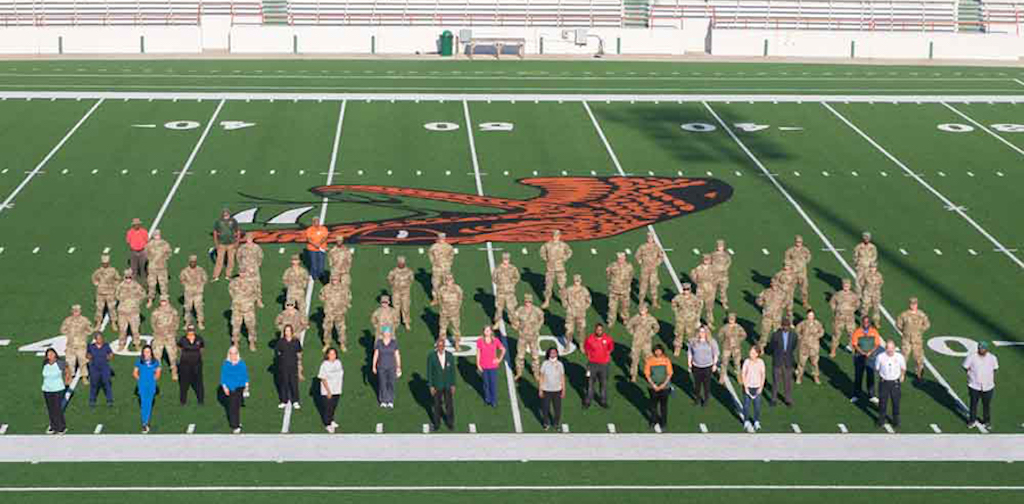 Organizers, staff and volunteers of the FAMU COVID-19 Testing site
(Photo credit: Nallah Brown)
Since the site at Bragg Memorial Stadium opened on April 25, staff has tested almost 2,000 people. The walk-up site increased daily capacity to 300 tests per day after initially starting with a 200 daily testing maximum. Originally, the site was scheduled to be open until May 8.
"We are pleased with the response from the community," said Harris, who credited the support of the community, university and health care partners and local media for the success of the testing site.
"Our intent is to continue to provide this service to anyone who needs free access to testing with no physician referral required," she continued. "We have been able to increase our capacity, so we want people to come and get tested."
Residents who believe they have COVID-19 symptoms can make an appointment or walk up for testing. Residents can call 850-404-6399 to schedule an appointment.
The Leon County Health Department will notify individuals who have tested positive for COVID-19, while the Bond Community Health Center staff will call those whose tests are negative. Results will be provided in at least three days from when the lab receives the specimen, organizers said.