The University of West Florida announces a significant expansion of its 2UWF program, adding Santa Fe College, Valencia College and Broward College as new partner institutions in agreements that include attractive benefits for honors and international transfer students.
"The 2UWF program streamlines the process for prospective students.  It assists in ushering in a new generation of Argos who are poised to pursue a bachelor's degree at UWF," said UWF President Martha D. Saunders. "We welcome our new partner institutions and future students who will be taking advantage of these innovative programs."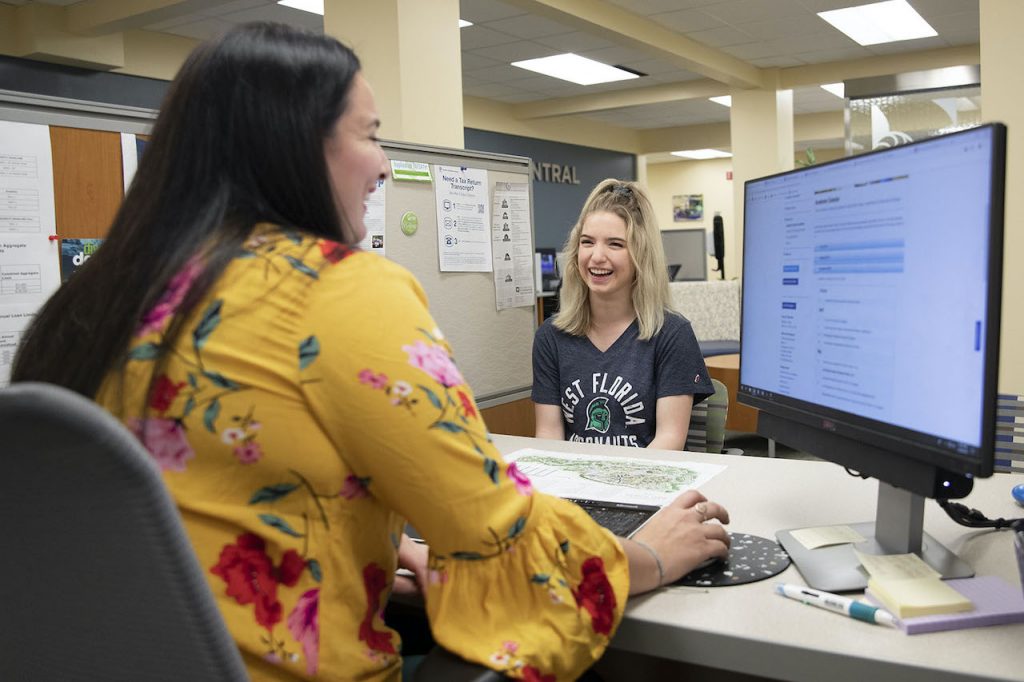 UWF student with admissions representative 
The 2UWF program is designed to help students earn an associate degree and a UWF bachelor's degree in the most efficient way. Benefits of the program include specialized advising from a transfer pathways coach, access to a UWF degree plan, seamless transition of courses and a waived application fee. Students enrolled in the program forgo the transfer application process, creating a seamless transition to UWF. Associate degree-seeking students at a 2UWF partner institution with a minimum overall combined GPA of 2.00 and actively following the 2UWF degree plan are eligible. They also cannot have previously taken any classes at UWF or hold a bachelor's degree.
"The 2UWF pathway programs are more than your typical agreement that guarantees admission upon receiving an AA," said Katie Condon, executive director of undergraduate admissions. "UWF takes it a step further. Today's transfer students face unique and challenging barriers. Our goal is to make earning a degree as worry-free as possible. By providing a transfer pathways coach for degree planning while they pursue an AA and eliminating the transfer application process, 2UWF students can focus on their academic and career goals."
The partnership agreement allows for the sharing of student information, including transcripts, between schools. The Santa Fe College agreement establishes the first 2UWF program to include both an honors pathway and an international pathway.
The Honors pathways provide transfer students in honors programs the opportunity to enroll in the UWF Kugelman Honors Program once they earn an associate degree.
"The Kugelman Honors Program provides unique research experiences, exclusive scholarships and exciting travel opportunities for high-achieving students," said Dr. Gregory Tomso, director of the Kugelman Honors Program. "We are excited to include many of Florida's most accomplished transfer students in our program."
The agreements with Valencia College and Broward College provide an international pathway, providing enhanced access for international students from across the globe to attend UWF. Students in the international pathway program receive priority consideration for scholarships.
"Part of UWF's mission is to provide all students with 21st century global skills to help them compete in a borderless workforce," said Rachel Hendrix, executive director of international affairs. "International students bring with them an important perspective and diversity to the classroom and beyond. By increasing the number of international students on our campus, we can create an environment whereby students can build relationships that will foster global understanding and can lead to goodwill between the U.S. and other countries."
UWF also offers the Argo Accelerate Transfer Pathway Program, allowing students enrolled in non-2UWF transfer institutions to transfer to UWF with similar benefits.
Existing 2UWF partner institutions include Gulf Coast State College, Tallahassee Community College, Northwest Florida State College, Pensacola State College and Coastal Alabama Community College. UWF also has an honors pathway agreement with Hillsborough Community College.
For more information about UWF's 2UWF program, visit uwf.edu/pathways.