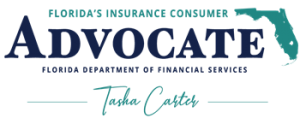 Florida's Insurance Consumer Advocate (ICA) Tasha Carter today released the following statement on Capitol Preferred Insurance Company's cancellation of more than 23,000 homeowners insurance policies as the 2020 hurricane season approaches.
ICA Tasha Carter said, "I am highly concerned that more than 23,000 Capitol Preferred Insurance Company policyholders will now have to secure homeowners insurance coverage with two weeks until hurricane season. Now is the time that consumers should be preparing for hurricane season and not consumed with searching for and obtaining new coverage. I implore insurance agents to work with consumers to proactively, quickly and effectively identify comparable replacement coverage. It's imperative that consumers are adequately covered, especially during hurricane season."
For additional assistance, policyholders may contact Chief Financial Officer Jimmy Patronis' Insurance Consumer Helpline at 1.877.693.5236.
For more information on ICA Tasha Carter, please visit www.MyFloridaCFO.com/Division/ICA and follow her on Twitter and Facebook: @YourFLVoice.
Tasha Carter was appointed by CFO Jimmy Patronis as Florida's Insurance Consumer Advocate in August 2019. The ICA is an independent leader with an effective and powerful voice for all Floridians. In this role, ICA Carter is committed to increasing consumer awareness and education; assisting consumers with insurance-related matters; and engaging legislatively to represent Florida's insurance consumers. The ICA serves the interests of Florida's insurance consumers by representing the general public before the Department of Financial Services (DFS) and the Office of Insurance Regulation (OIR); examining rate and form filings submitted to OIR; recommending actions to DFS and OIR; and representing the general public on appointed boards and public forums.