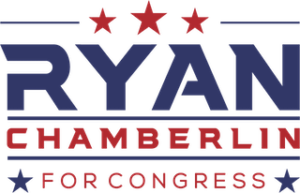 The Ryan Chamberlin Campaign announced the leadership of its Veterans Coalition. These men and women have served with distinction and have volunteered to help lead the Chamberlin Campaign's outreach to the veterans of Congressional District 3.
"I want to thank these friends of mine for their commitment and service, first to our country, and second to our campaign," said candidate Ryan Chamberlin.  "Memorial Day is a tribute to those who paid the ultimate sacrifice.  Too many in Congress today are willing to give away the freedoms that those veterans died for.  This campaign is about recognizing their sacrifice and preserving America for future generations."
The initial Veterans for Chamberlin Coalition Leadership Team is as follows:
Co-Chairmen
Leonard F. Burrows II, United States Navy

Machinist Mate, 3rd Class
4 deployments; served on the USS Kentucky
Gerald M. Campetella, United States Army

Specialist 4 Medical Coreman
Served in Vietnam, 1964-1966
Christopher K Capozzoli, United States Air Force

Sergeant; Nuclear weapons specialist
14 years active duty; 2 years Air National Guard
Joel N Carter, United States Air Force

Tech Sergeant
4 deployments (2 in Afghanistan/2 Iraq)
Joseph Castellanos, United States Air Force

Sergeant
4 years active duty
Basic Training Dorm Chief; Airman of the Year Award Winner at the Squadron, Wing & Base Level; Honor Graduate NCO Leadership School
Maria Castellanos, RpH VA Outpatient Pharmacy Supervisor

Served in the Veterans Administration for the last 27 years
Clenith Gale Henson, United States Army

E-5 Specialist
Deployed to Vietnam but was diverted to Korea when the Pueblo was captured. Operated the M48A1 Patton tank.
On duty at Freedom Bridge when captured U.S. soldiers were released.
Still suffers from Agent Orange poisoning from tour of duty
Shawn Kevin Hughes, United States Navy

E-6/SO1
Served 2012-present
Deployments: Guatemala, Colombia, East Africa (Somalia)x2 Awards; 3x Navy and Marine Corps Achievement medal; Combat Action Ribbon; Global War on Terrorism medal
Matthew Parr, United States Army

E-7
Army Commendation Medal, Parachute Badge, Ranger Tab, Special Forces
Travis Luke Sears, United States Marine Corps

Corporal /Infantry squad leader.
Deployed twice to Iraq with Second Battalion Third Marines
Alan C. Sickman, U.S. Army (Retired)

Lieutenant Colonel (LTC)
27 Years Active Duty service
Vietnam Veteran (1969-1970), Korea Veteran (1974-1975),  served on the US Army Staff at the Pentagon, 1983-1988, and the US Army Unites States Army Europe staff, 1988-1993
David Skinner, United States Air Force

E-4 Senior Airman
Served as a Security Policeman safeguarding nuclear weapon sites in Montana
Represented Malmstrom AFB on the Security Police Team within Strategic Air Command in 1989 & 1990 at Olympic Arena Competitions held at Vandenberg AFB Calif., winning the Blanchard Trophy and Best overall Security Police Team in 1990; Air Force Commendation Medal and Air Force Achievement Medal
Use of military rank does not imply endorsement by the Department of Defense of Service Branch. 
Use of organization names is for identification purposes only and does not imply endorsement by the organization.
Paid for by Ryan

 

Chamberlin

 

for Congress