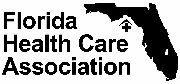 As hurricane season nears during the ongoing COVID-19 crisis, thoughtful preparation is more crucial than ever for long term care facilities, and the Florida Health Care Association (FHCA) and its members have been working to prepare storm response plans. The FHCA team will discuss these preparations, as well as preliminary planning for a careful return of visitors to care centers, and will answer questions during a media roundtable this Friday, May 29, at 11:00 AM.
NOTE: To participate, reporters must register for the webinar using the GoToWebinar link. In order to ask questions, reporters will have to use GoToWebinar (rather than dialing in via phone). Phone audio without GoToWebinar will enable reporters to listen to the roundtable but not to ask questions.
What: FHCA Media Roundtable: Hurricane Preparedness for Long Term Care Facilities During COVID-19
Who: Florida Health Care Association
When: Friday, May 29, 2020, at 11:00 AM (EDT)
How to Join Meeting: https://attendee.gotowebinar.com/register/6253934585056429069
An update on facilities' generator status will be provided, along with infection precautionary measures being considered as part of facilities' hurricane planning. Preliminary planning for a careful return of visitors to call centers will also be discussed. Speakers will include FHCA Executive Director Emmett Reed, FHCA Emergency Response Coordinator Bob Asztalos, and certified infection control specialist A.C. Burke of RB Health Partners, Inc.