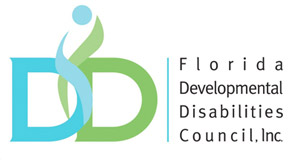 The Florida Developmental Disabilities Council is calling on Gov. Ron DeSantis to preserve funding for services for people with developmental disabilities when he signs the state budget passed by the Florida Legislature in March.
The COVID-19 pandemic has put the state of Florida under increased financial pressure causing uncertainty for the funding and budgets passed during the 2020 Legislative Session. One such instance is the funding awarded to maintain the iBudget Waiver – Florida's only public health insurance program for nearly 35,000 individuals living with intellectual and developmental disabilities.
During this past session, numerous groups, with the Florida Developmental Disabilities Council (FDDC) leading the way, advocated to "Save the iBudget Waiver." Efforts resulted in funding for the Agency for Persons with Disabilities (APD) to eliminate deficit spending, reduce the number of individuals waiting for iBudget services and increase wages for personal care providers.
The funding acquired will help pay for various programs intended to lessen the divide and allow all individuals to have access to a meaningful life. However, the pandemic has left those with preexisting conditions especially vulnerable, and advocates fear taking away resources will leave them more susceptible.
"This is an uncertain and rather frightening time for thousands of Floridians with disabilities," said FDDC Executive Director Valerie Breen. "Our top priority is to ensure that the funding approved before COVID-19 remains intact and that the state continues to be united and inclusive in supporting the wellbeing of all of its residents."
In a recent letter to DeSantis, Breen urged the governor to preserve all funding directed by the 2020 Legislature to APD. The letter stated the many positive outcomes on behalf of individuals with intellectual and developmental disabilities and how such services are even more critical now and as the state exits the pandemic. The governor must sign the budget by June 30, but some items may fall victim to his veto pen.
The Florida Developmental Disabilities Council (FDDC) leads the Save the iBudget Campaign to advocate for changes that do not interfere with an individual's inclusion in the community or force individuals into more costly and restrictive settings. The mission of the FDDC is to advocate for and promote meaningful participation in all aspects of life for Floridians with developmental disabilities. Learn more at www.fddc.org.