In response to a rash of attacks that have claimed Black lives, including the brutal killing of George Floyd by white police officers in Minneapolis, Equality Florida will host a virtual town hall with Black LGBTQ leaders on Wednesday, June 3 at 6:00 PM ET. The event will be live-streamed on Equality Florida's Facebook Page and YouTube channel. Xfinity X1 and Xfinity Flex customers can watch the Town Hall by simply saying "Pride" into their remote.
​​​​​​​Nadine Smith, Equality Florida Executive Director, will moderate the conversation and be joined by Alphonso David, Human Rights Campaign President; Andrea Jenkins, Minneapolis City Council Vice President; Michele Rayner, Civil Rights Attorney who represented the McGlockton family following the murder of Markeis; and Imani Rupert-Gordon, National Center for Lesbian Rights Executive Director.
The Town Hall comes as more than 400 LGBTQ organizations from across the country have signed onto a letter condemning racial violence and committing to the fight against it.
Equality Florida's Nadine Smith who issued the call for a national statement noted the apt timing as Pride celebration commemorating the Stonewall rebellion when LGBTQ people took to the streets to fight back and demand justice.
"The LGBTQ community knows about the work of resisting police brutality and hate violence," said Smith. "We understand what it means to stand up and push back against a culture that tells us we are less than, that our lives don't matter. Today, we stand up again to say Black Lives Matter."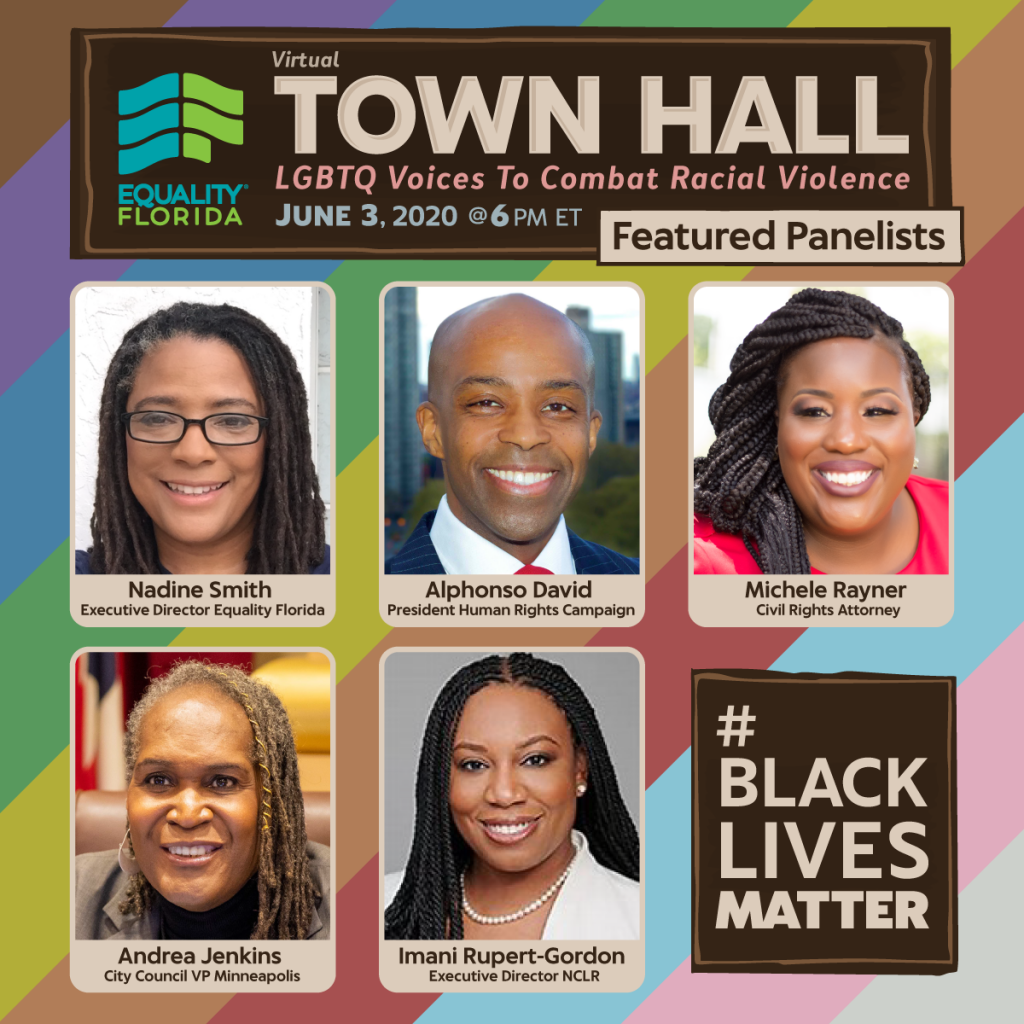 In a show of unity, over 400 LGBTQ organizations from across the country have signed onto a letter condemning racial violence and committing to the fight against white supremacy. What action that commitment requires will be the topic of a town hall discussion featuring Black LGBTQ leaders from across the country.
The statement, signed by leaders of national, state and local LGBTQ organizations, calls on the LGBTQ movement to make anti-racism a core part of their collective work:
"The LGBTQ Movement's work has earned significant victories in expanding the civil rights of LGBTQ people. But what good are civil rights without the freedom to enjoy them?
Many of our organizations have made progress in adopting intersectionality as a core value and have committed to be more diverse, equitable, and inclusive. But this moment requires that we go further — that we make explicit commitments to embrace anti-racism and end white supremacy, not as necessary corollaries to our mission, but as integral to the objective of full equality for LGBTQ people." – excerpt from an Open Letter: LGBTQ Organizations Unite to Combat Racial Violence
This dialogue also comes on the heels of the murders of seven Black transgender women in Florida in less than two years, the shooting of Ahmaud Arbery by white vigilantes in Georgia, and the weaponizing of race by a white woman against Christian Cooper, a Black, gay man birdwatching in Central Park, and the disturbing questions raised in the police shooting death of Tony McDade, a Black transman in Tallahassee days ago – all stark reminders of the need for LGBTQ movement leaders to speak out against the systemic racism and hate violence claiming Black lives.​​​​​​​
Equality Florida is the largest civil rights organization dedicated to securing full equality for Florida's LGBTQ community. Through education, grassroots organizing, coalition building, and lobbying, we are changing Florida so that no one suffers harassment or discrimination on the basis of their sexual orientation or gender identity.  www.equalityflorida.org