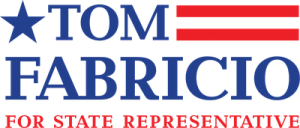 The Tom Fabricio for State Representative Campaign today announced the endorsement of former Lt. Governor Carlos Lopez-Cantera. Lopez-Cantera has served in a myriad of important roles in his distinguished career including State House Majority Leader, Miami-Dade County Property Appraiser, and local businessman.
"Tom Fabricio is a principled and compassionate leader who has the work ethic necessary to effectively represent House District 103," said Lopez-Cantera. "In addition, Tom's experience in the business community ensures that he has the knowledge and expertise needed to revive our economy quickly."
Fabricio filed to run for the seat last year. Since then, his hard work has paid off. He qualified by petition and is the fundraising leader in the race. Lopez-Cantera's endorsement solidifies his front-runner status and puts him in an excellent position to win the nomination in August.
"I want to thank Lt. Governor Lopez-Cantera for his leadership of our state and community and for his commitment to our campaign," said Tom Fabricio. "I will seek his counsel and ongoing advice as we continue to work hard for this nomination, and I am confident that with his support and our outstanding volunteer-driven ground game, we will win."
ON THE WEB:  www.TomFabricio.com
Paid by Tom Fabricio, Republican, for State Representative