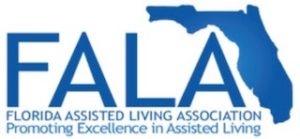 While everyone is at risk during the coronavirus health crisis, congregate living facilities – including assisted living facilities (ALFs), nursing homes, rehab centers, homeless shelters and detention centers – are especially endangered due to proximity and challenges with social distancing. Add to that the advanced ages, fragile natures and existing medical conditions of ALF and nursing home populations and it creates especially frightening and frustrating challenges. One of the most significant challenges these facilities have had to face is resident isolation due to restrictions on visitation and community gatherings.
The Florida Assisted Living Association (FALA), which represents more than 650 ALFs and AFCHs, as well as nearly 300 associate members who provide products and services, is going to help long-term care providers across the state battle resident isolation by offering a free, virtual fitness program. Ageless Grace is a seated exercise program that activates all five functions of the brain and simultaneously addresses all physical skills needed to remain vibrant and functional.
FALA has partnered with Tallahassee Memorial HealthCare (TMH) and certified trainer and educator Marghi McClearn to host four Ageless Grace classes in the month of June. The classes will take place Tuesday, June 16, and Tuesday, June 23, both at 10:30 a.m., and Thursday, June 18, and Thursday, June 25, both at 1:30 p.m. Registration is open to all long-term care providers in the state and there is no cost to participants, thanks to a grant provided to TMH's Memory Disorder Clinic.
"TMH is proud to offer Ageless Grace programs to community members in the Big Bend and, thanks to this partnership with FALA, across the state of Florida," said Vicky Rose, the Memory Disorder Clinic coordinator. "Ageless Grace is a wonderful program to keep the mind and body active, which is such a critical component to maintaining a healthy brain."
Long-term care providers who are interested in registering their communities for the fitness program can visit www.fala.org to sign up. There may be a maximum number of seats available. Participants are not required to attend all classes.
About The Florida Assisted Living Association
The Florida Assisted Living Association (FALA) is the state's largest and oldest association serving assisted living facilities (ALFs). For more than 25 years, FALA has provided advocacy, education and regulatory support for its members, focusing on quality, legislative action and government relations in order to enhance the ALF industry. For more information about the Florida Assisted Living Association, visit www.fala.org.
About Tallahassee Memorial HealthCare
Tallahassee Memorial HealthCare (TMH) is a private, not-for-profit community healthcare system committed to transforming care, advancing health and improving lives with an ultimate vision to elevate the standards of healthcare practice, quality and innovation in our region. Serving a 17-county region in North Florida and South Georgia, TMH is comprised of a 772-bed acute care hospital, a psychiatric hospital, multiple specialty care centers, three residency programs, 32 affiliated physician practices and partnerships with other hospitals. For more information about Tallahassee Memorial HealthCare, visit www.tmh.org.
About Ageless Grace
Ageless Grace is a brain and body fitness program based on the science of neuroplasticity, consisting of 21 tools to stay functionally youthful at any age. Ageless Grace is a seated program that can be used as a developmental tool for children, a maintenance tool for adults or a restorative tool for seniors.  For more information about Ageless Grace, visit www.agelessgrace.com.