Law firm's inaugural scholarship program honors 20 students' service, boosts their academic path, and provides much-needed financial support during the COVID-19 pandemic
Farah & Farah, a preeminent Florida and Georgia law firm, today announced the first group of scholarship recipients in its inaugural Empowering Greatness Scholarship Program. The firm awarded $100,000 in scholarships to 13 exceptional students in Florida and seven in Georgia, all of whom achieved impressive academic success while making a notable difference in their communities.
Farah & Farah's Empowering Greatness Scholarship was inspired by the rich and enduring legacy of the late Dr. Martin Luther King Jr. The program emphasizes the important role that community service plays in helping students develop civic and social responsibility.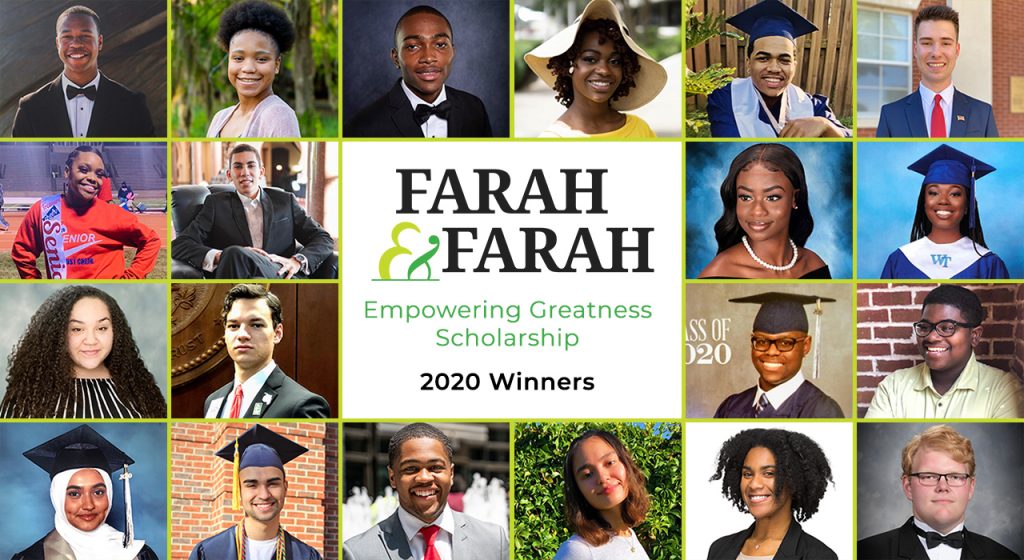 "The high cost of postsecondary education is one of the biggest barriers to earning a degree," said Chuck Farah, Co-founder of Farah & Farah. "We created this program to recognize and support students who demonstrate a passion for community service while excelling in the classroom, a need that has been accentuated by this pandemic."
A panel of judges — diverse and accomplished community leaders from Florida and Georgia — evaluated dozens of applicants with strong academic achievement and deep community involvement. The panel awarded $5,000 scholarships to 20 standout students, which will help them pursue their college dream at a time when the coronavirus has financially impacted so many families.
"We're thankful that we can support students during the pandemic," expressed Eddie Farah, Co-founder of Farah & Farah. "We believe in what these young, bright students are doing, and respect how they have stepped up as leaders in their schools and communities. I can't wait to see their positive impacts get even bigger and brighter."
Top 20 Students
Abdallah Elokda of Tampa, currently attending Florida Gulf Coast University

Austin Halaby of Statesboro High School

Beau Teston of Pierce County High School

Cheyenne Diaz of Vanguard High School

Cimaya McCreary of Woodville Tompkins High School

Darius Turner of South Lake High School

Evon Thompson of Evans High School

Jamya Brown of Robert E. Lee High School

Jason Puwalski of Ft. Myers High School

Jordan Brown of Paxon School for Advanced Studies

Joshua Brown of Jacksonville, currently attending Florida A&M University

Kayla Ellis of Camden County High School

Leiya Green of Raines High School

Luke Smith of Abraham Baldwin Agricultural College

Sarah Louis of Orlando, currently attending the University of Florida

P Langston Redden of Savannah Country Day School

Tamara Sonera of Franklin H. Peterson High School

Treasure Bonner of Westover High School

Treymel X Jenkins of Gainesville Christian Academy

Zaynab Siddiqui of Universal Academy of Florida
For more information about the Empowering Greatness Scholarship visit https://farahandfarah.com/scholarship.
About Farah & Farah
For more than 40 years, Farah & Farah, a personal injury law firm, has fought insurance companies and corporations to protect the rights of injured people and their families. Farah & Farah has 16 office locations throughout Florida and Georgia, and has made recoveries in excess of $1 billion. Under the leadership of managing partners, brothers Eddie and Chuck Farah, the dedicated team of attorneys and staff prioritize listening to the needs of clients and treating all clients with dignity and respect. Follow us @farahandfarah (Twitter), @farah_and_farah (Instagram), @FarahAndFarah (FB), Farah & Farah (YouTube), and farahandfarah.com.