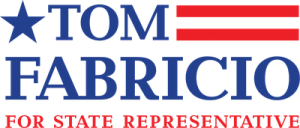 The former Vice Mayor of Miami Lakes and Republican nominee for
District 103 in 2018 calls Fabricio the strongest conservative in the race.
Tom Fabricio today announced that Frank Mingo has endorsed him in the race for State Representative in District 103. Mingo was the Republican nominee for this seat in 2018. He served as Vice-Mayor until 2018 and was elected to the Miami Lakes Town Council in 2013. 
"Tom Fabricio is far and away the strongest conservative candidate in this race," said former Vice-Mayor Frank Mingo. "I have been impressed with Tom's work ethic, his dedication to our community, and his unwavering commitment to conservative values. There's no doubt in my mind he will be elected and will serve our district proudly." 
"I'm honored by Frank Mingo's strong and unqualified support for our campaign," said candidate Tom Fabricio. "Being endorsed by our Republican nominee from the most recent election is a testimony to our hard work on the campaign, going door-to-door and earning the respect and trust of the voters of this district. I look forward to working with leaders like Frank Mingo while I serve in the Florida House." 
Last week, former Lieutenant Governor Carlos Lopez-Cantera endorsed Fabricio. The endorsement by Mingo is the latest indicator of strong support for Fabricio from both community and conservative leaders. 
ON THE WEB:  www.TomFabricio.com
Paid by Tom Fabricio, Republican, for State Representative