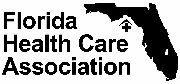 In response to the Agency for Health Care Administration's Emergency Rules requiring COVID-19 testing for all nursing home and assisted living facility staff every two weeks, Florida Health Care Administration issued the following statement:
"Florida's nursing home and assisted living caregivers have been on the front lines of the fight against COVID-19 and have performed heroic work to keep their residents and staff safe. Thanks to their efforts, the vast majority of our residents diagnosed with the virus are on their way to recovery. Florida Health Care Association (FHCA) and our members appreciate how Governor DeSantis has made long term care a priority, and enhanced access to testing, personal protective equipment (PPE), staffing support, and other assistance has made our care centers better able to respond to this crisis and prevent outbreaks.
We know that ongoing testing is an effective way to prevent spread in our care centers, since the virus can be present even when someone doesn't show any symptoms. FHCA welcomes the opportunity to work with state and local officials to ensure that our care centers test employees every two weeks, and the state's commitment to cover the costs of this testing over the summer is a tremendous help to ease the financial burden on centers. Our goal is to help make this process go smoothly and ensure that our care centers have access to timely results, so they can continue making important decisions that help protect the vulnerable residents entrusted to their care.
In addition, our hope is that this ongoing testing highlights those care centers where safe visitation could resume. We're hearing from concerned family members about the physical and mental toll the isolation is having on their loved ones. It's important that we strike a balance between protecting our residents from this virus and giving them the quality of life they deserve. FHCA recently submitted recommendations on safely reopening our care centers, which included ongoing testing for COVID-19. We look forward to continued work with the Governor and other state leaders on the best way to approach that process."