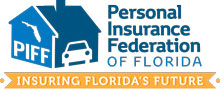 Insurance Group Supports Market Improvements
The Personal Insurance Federation of Florida (PIFF) today applauded Governor Ron DeSantis for signing Senate Bill 1606 into law. The insurance omnibus bill, sponsored by Senator Keith Perry, R-Gainesville, provides important legal and regulatory changes that will enhance market health and competition. Many of these changes are priorities of PIFF members.
Michael Carlson, president of PIFF, shared the following statement:
"Thanks to the support of Governor DeSantis, we'll see the streamlining of processes for certain insurance notices, better protection of data and necessary updates to outdated policy language. We were happy to assist the Legislature in developing policies in this bill that reduce regulatory burdens on policyholders and help create a healthier insurance marketplace."
About PIFF
The Personal Insurance Federation of Florida, Inc. (PIFF), is a leading voice for the personal lines property and casualty insurance industry in Florida. PIFF represents national insurance carriers and their subsidiaries, including many of the state's top writers of private passenger auto and homeowners multiperil insurance. Together, PIFF members write more than $13 billion in premium in the state. PIFF advocates for a healthy and competitive insurance marketplace for the benefit of Florida consumers. Follow us @PIFFNews. Visit PIFF.net to learn more.