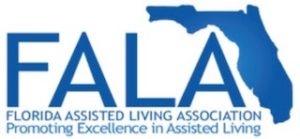 While everyone is at risk during the coronavirus health crisis, those living in long-term care facilities, such as assisted living facilities (ALFs), adult family care homes (AFCHs) and nursing homes, are especially endangered due to their advanced ages and existing medical conditions. It is important now more than ever to keep these fragile populations healthy, which begins with access to sufficient, safe and nutritious food that meets their preferences and needs.
The Florida Assisted Living Association (FALA), which represents more than 650 ALFs and AFCHs, as well as nearly 300 associate members who provide products and services, has partnered with Independent Living Systems, Independent Community Living Systems and Florida Community Care to provide thousands of pounds of fresh produce to residents in long-term care facilities across the state. Over the summer, FALA will help distribute thousands of boxes of food to seniors in need, thanks to the USDA Farmers to Families Food Box Program.
The boxes provided through the Farmers to Families Food Box Program contain fresh produce that can feed approximately three residents per item. The USDA is working directly with farmers, ranchers and specialty crop producers to ensure that people have access to fresh food during the COVID-19 pandemic.
"This obviously does not meet all of the daily food requirements for our ALF residents, however, it is a considerable step in supplementing the protein and dairy in each meal to assist long-term care providers and save them money when they have had to increase spending due to higher food costs, additional staffing and the requirement for personal protective equipment," said Veronica Catoe, CEO of FALA.
Deliveries to a central location in each of Florida's 11 regions will begin within the next two weeks and run throughout July and August. Once a region reaches the minimum order of 1,200 produce boxes, refrigerated semi-trucks carrying the boxes will be directed to designated drop-off locations that are being identified and set up by FALA. ALFs and AFCHs may reserve a food donation with as little as 48 hours' notice. The produce boxes will be distributed at the designated drop-off locations from 9 a.m. to 2 p.m., with the help of fully-protected volunteer teams.
Long-term care providers who are interested in registering their communities for the food donation can visit www.fala.org/food-distribution to sign up. A list of distribution sites, organized by region, is provided below.
About The Florida Assisted Living Association
The Florida Assisted Living Association (FALA) is the state's largest and oldest association serving assisted living facilities (ALFs). For more than 25 years, FALA has provided advocacy, education and regulatory support for its members, focusing on quality, legislative action and government relations in order to enhance the ALF industry. For more information about the Florida Assisted Living Association, visit www.fala.org.