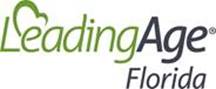 As Congress prepares another COVID-19 relief package, LeadingAge Florida joined with its national organization in launching a nationwide "Act For Older Adults" campaign to demand that the relief package includes comprehensive measures to safeguard older adults and care workers.
Beginning today, on National Day of Action for Older Adults, Congress will hear from LeadingAge Florida members through virtual meetings, emails and calls to policymakers.
"Nursing homes and long-term care providers have been working tirelessly for months to protect Florida's older adults from the threat of COVID-19," said Steve Bahmer, President and CEO of LeadingAge Florida. "In the face of this virus, they have dealt with heartbreak, shortages of life-saving tests and supplies, and personal risk to their health and safety. The thoughtful attention and resources for older adults required of our state's leaders must be matched by those in Congress."
At the core of the Act for Older Adults campaign is a comprehensive relief package based on LeadingAge's Five Essential Actions. Those include crucial resources for all providers and staff who care for older adults: immediate access to ample and appropriate personal protective equipment (PPE); accurate and rapid-results testing and the funds to cover costs; hero pay, paid sick leave, and health care coverage for the brave frontline workers who are risking their own lives serving older people during this healthcare crisis; and a $100-billion dollar emergency fund to help nursing homes and other aging services providers protect residents and staff.
In support of the Act for Older Adults campaign, LeadingAge Florida members will be taking part in virtual meetings with Florida's Congressional delegation, making phone calls and sending emails to Congress, and signing on to a letter with more than 5,000 providers to urge Congress to include robust support for older adults and the providers who care for them.
"We know what is needed to keep older adults and those who care for them safe: leadership and resources," said Katie Smith Sloan, President and CEO of LeadingAge in Washington, DC. "For too many months, pleas from older adults and aging services providers have gone unanswered. Together, we can ensure Congress hears their urgent call. We're asking all Americans to take action."
For more than 57 years, LeadingAge Florida has been the state's leading advocate for high-quality senior living, aging services and care. We are the only statewide association representing the full continuum of care for seniors. The Association provides up-to-date regulatory information, a wide variety of educational opportunities, representation before the Legislature and government agencies, group purchasing services, and opportunities for networking with peers to help member communities best serve the needs of Florida's senior population.