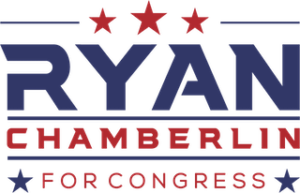 The fourteen ministers and faith leaders represent all corners of the Congressional
district and are strongly supportive of Ryan's commitment to faith and freedom.
Ryan Chamberlin today announced the leadership of his Faith Coalition, which will advise him on matters related to Freedom to Worship and re-establishing our national perspective to be "one nation under God."
"Our land was sought out by courageous men and women who wanted relief from persecution and the freedom to worship as they saw best," said candidate Ryan Chamberlin. "The American idea of freedom wasn't based on your bloodline or your inheritance. It was based on the premise that we are created equal in the image of God. Freedom to Worship is a bedrock right. While our founding fathers struggled against national churches and hostile monarchies, today our struggle comes from within. Without renewed commitment and a willingness to fight, we will see our rights erode more and more each year."
"I have enjoyed being a spiritual leader to Ryan Chamberlin, his wife Jenny, and their family more than 30 years," said Bishop James Varnum. "Ryan Chamberlin is faithful to his faith, unmovable in his character, and unchanging in his conservative, Christian values."
The fourteen members of the coalition have served in ministry for decades and are respected leaders throughout the Congressional district. Each brings special perspectives to matters of faith within their distinct communities.
Members of the Faith Coalition, Ryan Chamberlin for Congress
Organizations are listed for identification purposes only.
Bishop James E. Varnum – Marion County
50 years in ministry, District Secretary for the United Pentecostal Church
Pastor Jason E. Varnum – Marion County
Souls Harbor First Pentecostal Church
Pastor Timothy Bass – Marion County
Life Tabernacle – Ocala
Pastor Aaron Sizemore – Marion County
Cornerstone Church – Ocala
Pastor Rocki McKinley – Alachua County
Destiny Community Church – Newberry
Pastor Robin Roberts – Alachua County
Reverend Jimmy Toney – Alachua
The Pentecostals of Gainesville
Pastors Rick & Alexa Olson – Duval County
Church of Pentecost – Jacksonville
Pastor Cody Thomson – Clay County
The Pentecostals of Orange Park
Pastor John Moody
Southern Baptist Minister of 57 years (83 years old and still pastoring)
Retired Pastor Paul Bryan
Current board member for Church of God and United Gospel Outreach
Reverend Harold Cantley
Southern Baptist – Retired
Andy Simpson, Th.D.
Chief Operating Officer, Macedonia Baptist College, 37 years in ministry
Ronnie Simpson, Ph.D.
Pastor, Bright Light Baptist Church, 53 years in ministry
"My 20-year relationship with Ryan as a friend, colleague, and fellow believer gives me great confidence knowing the values we share will be represented in Congress," said Dr. Ronnie Simpson. "For two decades, I have witnessed his exemplary character in leadership, family, and life. It is my honor to support Ryan Chamberlin for the United States Congress."
ON THE WEB:  www.RyanChamberlin.com
Paid for by Ryan Chamberlin for Congress