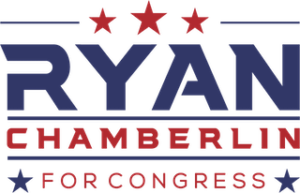 The Ryan Chamberlin for Congress Campaign today unveiled their first tv ad, called "Fire." It is hard-hitting on the issues and calls for the American people to fire Nancy Pelosi and the America-hating socialists that are in currently in charge of Congress. 
"President Trump is in the fight of his life for re-election, and we need conservatives across Florida and America to get out to vote," said candidate Ryan Chamberlin. "But his re-election means nothing if we do not have conservatives in charge of Congress. We must once again control all three branches of government if we are to pass important reforms and put America on a path to permanent prosperity."
Building on the success of Ryan's straight-talking style used in his radio ads, the advertisement features Ryan speaking directly to camera and includes Ryan's wife Jenny in a small portion. The ad (link) begins with Ryan watching CNN's Chris Cuomo on tv and then the script is as follows: 
Aren't you tired of the arrogant self-righteousness?
The media calls us idiots for supporting President Trump.
Racists for saying all lives matter.
Bigots for securing the border.
And they think every one of us is carrying a gun.
Can't imagine why.
I'm Ryan Chamberlin, and I approve this message.
Because I'm tired of Congress being run by America-hating socialists.
Let's fire Nancy Pelosi.
And keep America great.
One nation under God.
Noted conservative State Representative Stan McClain, who recently endorsed Chamberlin, said the ad was powerful in that is spoke for frustrated conservatives who endure unprecedented name-calling by a new brand of radical socialists who are leading the Democratic Party. 
Chamberlin is fast emerging as one of the top tier candidates in the CD3 race and is beginning to unify conservative voices across the district.  
For the past 20 years, Ryan and his wife Jenny have worked with thousands of entrepreneurs, assisting them in growing their influence and profitability through focused strategies of leadership, improved productivity and by revolutionizing their marketing strategies and corporate cultures. Ryan has worked with Success Magazine, speaks regularly at national conferences, and was recently featured at the Marion County TEDX Ocala as a guest speaker. In 2010, Ryan authored his first book titled Now You Know, a book to help entrepreneurs build better teams through common sense principles that focus on growth. 
The television spot may be viewed at https://vimeo.com/437920899. 
ON THE WEB:  www.RyanChamberlin.com
Paid for by Ryan Chamberlin for Congress