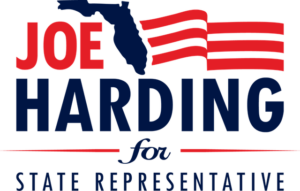 The statewide law enforcement association says
they can count on Harding in House District 22.
The Florida Police Benevolent Association today endorsed the Joe Harding Campaign in House District 22. Harding has been endorsed by a number of local first responder organizations and two local sheriffs, who have praised his dedication to the law enforcement community. 
"At a time when law enforcement officers are looking for champions, Joe Haring is a leader we know we can count on," said Matt Puckett Executive Director of the Florida PBA. "Joe Harding is a hard working small business owner, a community leader, he has a strong grasp on our issues, and we know we can count on him."  
The Florida Police Benevolent Association's membership includes certified law enforcement and corrections officers and is made up of chapters throughout the state. It is the largest professional association of law enforcement officers in Florida. 
"I'm proud to back the blue, and I'm honored that they back our campaign," said Joe Harding. "I was raised to respect law enforcement officers, and I believe they serve a vital function of government. Calls to defund them are extremely disappointing, especially in light of the commitment they make to keep us safe." 
The Florida PBA joins Gilchrist Sheriff Schultz, Levy Sheriff McCallum, former Florida House Speaker Larry Cretul, Fanning Springs Mayor Trip Lancaster, the Gator Fire Council, the Professional Firefighters of Ocala, the Gainesville Professional Fire Fighters, Representative Stan McClain, the Levy County Firefighters, Levy County School Board member Ashley Clemenzi, Levy County Tax Collector Linda Fugate, Williston Mayor Jerry Robinson, Belleview Mayor Christine Dobkowski, and the Marion County Firefighters in endorsing Joe Harding. 
About Joe Harding for State Representative
Joe Harding, a conservative Republican and seventh generation Floridian, is a small businessman who was born and raised in Williston. Harding's priorities are ending illegal immigration, outlawing sanctuary cities, and supporting agriculture. Also topping his agenda are defending Second Amendment rights, protecting all human life, and addressing skyrocketing health insurance and prescription drug costs. Harding learned the value of hard work and good stewardship of resources in his large family of eleven children, raised by his pastor father and homeschooling mother. While studying construction management at Florida International University, he worked multiple jobs to support himself, eventually working his way up into demanding project management roles. Currently, he owns and operates a lawn maintenance company and a horse boarding and training facility. Harding and his wife, Amanda, have four children. District 22 includes Levy County and part of Marion County.
ON THE WEB:  www.JoeHarding.net
Paid by Joe Harding, Republican, for State Representative