By Curtis Bataille
From beginning her entrepreneurial career at the age of 14, to becoming an executive for a global corporation in her thirties, Florida A&M University (FAMU) Trustee Kristin Harper has amassed a wealth of knowledge about corporate America.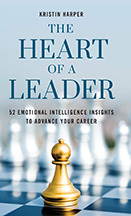 Harper, who was named to the FAMU Board of Trustees in October 2019, parlays her more than two decades of business experience into her new book, "The Heart of a Leader: 52 Emotional Intelligence Insights to Advance Your Career." (Rowland & Littlefield)
In "The Heart of a Leader," Harper, founder of Driven to Succeed, LLC, a leadership and business development company, challenges the age-old idea that emotions have no business in the workplace and looks to share helpful insights with others that she wishes she would have had to begin her career.
"When you look at people beyond their utility value and you engage with them from a human perspective, you draw people closer to you and it leads to a better outcome," said Harper, who earned an MBA and a bachelor's degree in business administration from FAMU. She has also worked for Procter & Gamble as well as The Hershey Company and is the founder of the Central Ohio FAMU Alumni Chapter. As a teen, Harper called her first venture, Krissy's Cookies n' Stuff.
"Emotional intelligence, how people are feeling, and their past experiences all make a huge difference," she said.
Harper realized the importance of emotional intelligence while reviewing case studies during a High Potential Leaders Program at Harvard Business School. The lead professor posed questions such as "What motivates the employees?", and "What are their fears?" in response to different business crises.
Several years later, following her employer's acquisition of a large company, Harper used what she learned about emotional intelligence from the case studies and applied it in real life, successfully integrating the merged companies.
To help cope with the stress and uncertainty of the acquisition, Harper began writing.
"I knew it was going to be a long-term journey, so I started to pen leadership lessons as a passion project, as a way to keep myself mentally and emotionally engaged in life, and to not get overwhelmed by the magnitude of the problems that I had to solve at work," said Harper.
"The Heart of a Leader" is packed with 52 key insights, coinciding with the 52 weeks in a year to represent the never-ending, linear process that is becoming a better leader, the author said.
Intended for current leaders looking to improve their managerial skills, seasoned employees trying to make the next step, and anyone else hoping to advance their career, "The Heart of a Leader" covers a wide range of topics, including workplace politics, tips to turn trauma into triumph, self-worth inside and outside the work place, and more.
Harper hopes that readers will internalize these tips and apply them to their professional lives.
"I hope that the book will help people self-reflect, help them have more satisfying careers, help aspiring leaders get clarity on whether managerial leadership is for them, and help current leaders lead with greater influence, greater compassion, and increase their level of vulnerability," said Harper.
For Harper, writing this book was about giving back.
"It started as a passion project thinking: what can I do to share my 30 years of leadership experience and to help others along their journey?" said Harper. "It has transitioned now into a published book that became a #1 bestseller for new releases yesterday on Amazon. It's just a blessing to be able to help others not make the same mistakes that I did and get more satisfaction out of their careers."