Florida A&M University (FAMU) alumnus and St. Paul, Minnesota Mayor Melvin Carter III will be the keynote speaker for the University's virtual Summer Commencement ceremony 10 a.m. August 1.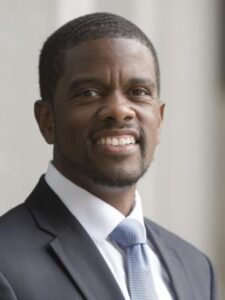 The celebration for 400 graduates will be aired live on the FAMU Facebook page and YouTube channel.
"FAMU helped shape my life and leadership," Carter said. "I am honored to speak at this year's summer commencement."
Carter was elected as Minnesota capital city's  46th and first African American mayor in 2018.  Since taking office, his accomplishments include raising the city's minimum wage to $15/hour; tripling free program in recreation centers; eliminating late fines in public libraries; reestablishing an Affordable Housing Trust Fund; expanding immigrant and refugee support resources and launching an Office of Financial Empowerment.
Amid the COVID-19 pandemic, Carter launched the St. Paul Bridge Fund to provide emergency relief to St. Paul's lowest-income families and small businesses most vulnerable to the economic impact of the pandemic. The fund provided more than $4 million of direct aid between April and June. He has also been in demand on national media in the wake of protests following a Minneapolis police officer's killing of George Floyd.
"It is an honor to welcome Mayor Carter to address FAMU's summer graduates. He is one of our own and, furthermore, a Rattler who has been on the frontlines battling racial injustice and speaking truth to the nation in the aftermath of George Floyd's death," said President Larry Robinson, Ph.D. "He is a seasoned leader of this day and time and will be a voice of inspiration for our graduates."
The son of a retired St. Paul police officer and a Ramsey County commissioner, Carter graduated from the city's public schools before entering FAMU. He earned a bachelor's in business administration from the FAMU School of Business and Industry in 2002 before completing a master's degree in public policy from the University of Minnesota.