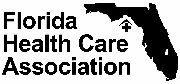 Additional $5 billion in funding will help facilities protect residents
The Florida Health Care Association (FHCA), representing more than 600 skilled nursing centers and assisted living communities across the state of Florida, applauded the Trump administration for prioritizing the nation's most vulnerable population as they announced $5 billion in additional Provider Relief Funds that will be allocated to skilled nursing centers across the country.
"We deeply appreciate President Trump and CMS Administrator Seema Verma's prioritization of nursing homes as we work to protect our residents and staff from COVID-19," said Emmett Reed, executive director of FHCA. "This additional federal funding will support our state's nearly 700 nursing centers in their ongoing vigilance to keep residents safe and staff protected. Having added resources will reinforce the support we've already seen from Governor DeSantis, the Florida Legislature, and the Agency for Health Care Administration (AHCA), who continue making our long term care facilities a priority throughout this state of emergency."
Since the start of the pandemic, Florida's nursing centers have remained focused on protecting residents from COVID-19. Across the state, centers have continued to carefully follow health and safety recommendations and implemented heightened infection control strategies such as restricting visitors, screening employees, donning masks and other personal protective equipment (PPE), continuous disinfecting of buildings, setting up isolation units and other precautionary measures. Most recently, facility staff are undergoing COVID-19 testing every two weeks.
"The COVID-19 crisis is resulting in enormous cost increases to facilities associated with PPE, infection control supplies and meeting staffing needs," Reed continued. "This support will go a long way in meeting the needs of our members, who we know will be in this battle for months to come."
For centers across the state, adequate funding has proved essential in providing critical care for residents while preventing the spread of COVID-19. Centers have received much-needed support from the governor and AHCA, including significant PPE shipments and state-supported employee testing, and the additional funding resources from the Trump administration will amplify the care they are able to provide.
"This added funding makes it clear that testing, funding for staffing and supply costs and addressing other COVID-19 challenges is not only the priority for our state officials, but also a priority for our national leaders. We appreciate the Administration for recognizing the needs of our frontline heroes and everything they continue to do to keep our most vulnerable safe." 
ABOUT THE FLORIDA HEALTH CARE ASSOCIATION
The Florida Health Care Association (FHCA) is a federation that serves nearly 1,000 members and represents more than 500 long-term care facilities that provide skilled nursing, post-acute and subacute care, short-term rehab, assisted living, and other services to the elderly and individuals with disabilities in Florida. The mission of FHCA is to advance the quality of services, image, professional development, and financial stability of its members. As Florida's first and largest advocacy organization for long-term care providers and the elderly they serve, the Association has worked diligently since 1954 to assist its members with continuously improving quality of care and quality of life for the state's growing elder care population. For more information about the Florida Health Care Association, visit http://www.fhca.org.