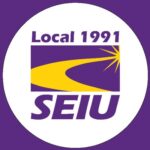 SEIU 1991 Launches Statewide Campaign Urging
Public to Wear a Mask to Curb the Spread of Coronavirus
Today, Monday, July 27 at 2 pm, SEIU Local 1991 President Martha Baker and healthcare professionals will host a virtual press conference demanding Gov. Ron DeSantis issue a statewide mask mandate. The nurses and doctors of SEIU 1991 are also launching a public awareness campaign to urge Miami-Dade residents and all Floridians to wear masks.
SEIU 1991 is launching a series of videos calling on the public to wear a mask and educate them on how to wear correctly. Videos on the SEIU 1991 Healthcare Heroes Facebook page have been viewed by over 2 million Miami residents with over 13 million impressions in the last month, and we will continue doing everything we can to highlight the importance of masks to the community.
With Miami-Dade the new epicenter of coronavirus with over 100,000 positive cases, and Florida cases now surpassing New York, it's critical that the state follow health restrictions including putting in place a mask requirement to control this crisis.
SEIU 1991 is the union at Jackson Health System representing more than 5,000 nurses, doctors and health care professionals on the frontlines of the coronavirus crisis.
Monday, July 27 at 2 pm
SEIU Local 1991 Lead Press Conference Urging Our Leaders
and Community to Help Curb the Spread of Coronavirus
Location: Zoom
Please RSVP to [email protected] for log-in details
About SEIU Healthcare Florida Local 1991
The mission of SEIU Healthcare Florida Local 1991 (SEIU Local 1991), representing the more than 5,000 nurses, physicians and healthcare professionals at Jackson Health System, is to provide the highest quality of patient care to all residents of Miami-Dade. We are a strong union built by strong members, working in close partnership with Jackson management to improve patient outcomes while keeping health care affordable. Through leadership development, our innovative partnership model, and negotiating on behalf of members, we are proud to deliver outstanding health care to all members of our community.