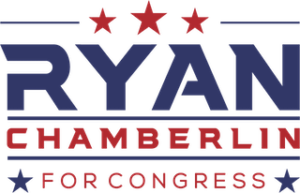 The Ryan Chamberlin for Congress Campaign today unveiled their second tv ad called "Fight." This hard-hitting ad takes on weak-kneed Republicans who won't stand up to extremists like Nancy Pelosi and Alexandria Ocasio-Cortez.
Click here to view the ad.
"Nothing has been more damaging to President Trump's America first agenda than Republicans who fail to take a stand," said candidate Ryan Chamberlin. "I am committed to going to DC and standing for the people and values of Congressional District 3. I have no desire to befriend the establishment. We must set a course for American renewal and revival, and that takes leadership without regard for those insiders that may have a direct interest in protecting Washington's status quo."
Building on the success of Ryan's first ad combining tough talk with a bit of humor, the ad features Ryan calling for red meat conservatives, illustrated by a gigantic piece of beef on his plate. The script is as follows:
Who's worse?
Socialists like Pelosi and AOC
Or the Republicans that surrender to them?
We elect them, and they spend their time
Looting the taxpayers for lobbyists
Bad-mouthing President Trump
Apologizing for our history
Liberals are tearing this country apart
We need red meat conservatives who'll take a stand
When conservatives fight,
We keep America great
One nation under God.
Noted conservative State Representative Stan McClain, who recently endorsed Chamberlin, said the ad was powerful and commended Ryan for his ongoing commitment to defeating the forces of anti-Trump socialism on Capitol Hill.
Chamberlin has emerged as one of the top-tier candidates in the CD3 race and has unified conservative voices of support for his campaign even as the other candidates continue to swipe at each other. Chamberlin called on his fellow competitors to put the negativity aside and added: "I call on my fellow candidates to put aside their rhetoric pointed at each other and focus on defeating Nancy Pelosi and her team of socialists in Washington."
The television spot may be viewed by clicking here.
ON THE WEB:  www.RyanChamberlin.com
Paid for by Ryan Chamberlin for Congress