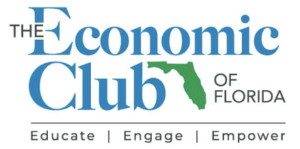 Former Visit Florida President to share pandemic's challenges
Brand USA President and CEO Christopher Thompson will address The Path Forward for U.S. International Tourism in a speech before the Economic Club of Florida on Wednesday, August 5, from noon to 1pm, at the Governors Club in downtown Tallahassee. Tourism is Florida's number one industry but has taken a hit from the coronavirus pandemic, with intrastate, interstate, and international tourist visits down since March. Mr. Thompson will address strategies to bring visitors back to Florida and the United States, especially international tourists, a growing segment.
Brand USA is the nation's public-private partnership dedicated to increasing International visitation to the U.S. through marketing and promotional efforts. Headquartered in Washington D.C., it also communicates U.S. visa and entry policies.
"Many of us know Chris from his days as head of Visit Florida, the state's public-private tourism organization. He was on the leadership team that developed strategies to bring tourists back to Florida post-911. We look forward to hearing his insights on overcoming the challenges to tourism in this current worldwide pandemic," said Club President Bill Moor.
Non-member guests are welcome to attend the virtual version of this address by contacting Michael Vincent at 850-906-9226 ext. 108, or by email at [email protected].
MEDIA NOTE: To attend the live virtual webinar version of the August 5 address, please contact Michael Vincent at 850-906-9226 ext. 108, or by email at [email protected].
The Economic Club of Florida is the South's leading forum for speakers of regional and national distinction to discuss the major issues of the day. On the web at www.economic-club.com | @EconClubFL | Facebook.