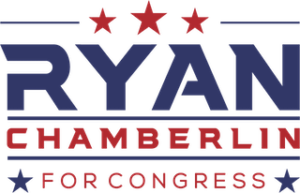 In the race for the third congressional district, Tom Wheeler says Ryan
Chamberlin is the best candidate to help President Trump secure our borders.
The Ryan Chamberlin Campaign today announced the endorsement of Tom Wheeler, Chairman of Help Trump Stop Illegal Immigration. As the group's name suggests, Wheeler has long been committed to the mission of promoting President Trump's America First agenda, including building the wall along our southern border.
"President Trump has done a tremendous job of working to end illegal immigration," said Wheeler. "I have personally evaluated all of the candidates and trust Ryan to make good on his commitment to making it one of his priorities in Washington, too. He is exactly the kind of ally President Trump needs to protect our national security and American workers and taxpayers."
"I'm honored to have Tom on our team," said Chamberlin. "President Trump's push to enforce our immigration laws is absolutely crucial. To do otherwise weakens our national security and is unfair to American citizens who pay their taxes and work hard to support their families and communities. I'm proud to stand with Tom and with President Trump to keep America great by continuing to make sure immigrants come to our country the right way."
Titles in this release are used for identification purposes only.
ON THE WEB:  www.RyanChamberlin.com
Paid for by Ryan Chamberlin for Congress