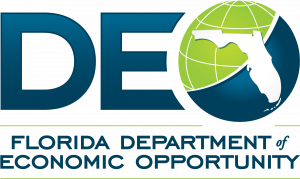 Assisting Small-Medium Florida Defense Industries
The Florida Department of Economic Opportunity (DEO) has been awarded more than $1 million in funding from the Department of Defense (DOD) Office of Economic Adjustment (OEA), for the creation of the Florida Defense Cybersecurity Training Program. Funding will be used to administer programs and trainings that assist small and medium-sized defense contractors in becoming aware and compliant with the DOD's Regulations for Cybersecurity, including the DOD's new Cybersecurity Maturity Model Certification (CMMC) standards for cybersecurity.
DEO will work with FloridaMakes, the State's Manufacturing Extension Partner (MEP) to conduct a series of educational and engagement events, as well as training modules for companies within Florida's defense industry. The Florida Defense Cybersecurity Training Program will assist in strengthening, protecting and growing Florida's aerospace and defense supply chains.
Florida's military and defense industry has a $95 billion annual impact on the state's economy. The defense sector provides 914,787 jobs employing Floridians in every county in Florida. The defense sector also constitutes approximately 9% of the state's total economy. Florida is the 4th largest recipient for Defense Contracts in the US with over $17.5 billion dollars in awarded grants annually.
To learn more about attending a regional training event, please visit www.FloridaJobs.org/DefenseTrainingProgram. DEO will conduct a statewide education event on the CMMC, its impact on the Florida Defense Industry, and further details on the Florida Defense Cybersecurity Training Program at the Florida Cybersecurity Forum, on September 16-17. To register for the event or find more information on this virtual conference, please visit: https://www.floridamakes.com/events/cybersecurity-forum-september-2020.stml.
About DEO
The Florida Department of Economic Opportunity combines the state's economic, workforce and community development efforts, expediting economic development projects to fuel job creation in competitive communities and promote economic resiliency. For more information, including valuable resources for employers and job seekers, please visit www.FloridaJobs.org.