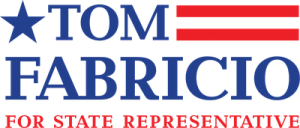 Haridopolos says that Fabricio's commitment to his
community is what's needed in the Florida Legislature.
The Tom Fabricio for State Representative Campaign today announced the endorsement of former Senate President Mike Haridopolos.
"Tom is one of the hardest working candidates in Florida!" said Haridopolos. "I've been so impressed with his work ethic and he's the kind of person we need in government today." 
Haridopolos served as President of the Florida Senate from 2010 to 2012, presiding over the largest Republican majority since Reconstruction. He also served in the Florida House of Representatives from 2000 to 2003. He now operates MJH Consulting, a leading consulting firm in Florida. 
"I appreciate the endorsement and counsel of President Haridopolos," said Fabricio. "He has been a true conservative leader in the Florida Legislature, and I look forward to working with him when elected to the Florida House" 
Senator Manny Diaz, Jr, former Lieutenant Governor Carlos Lopez-Cantera, and former Miami Lakes Vice-Mayor Frank Mingo have also recently endorsed Fabricio. These endorsements are the latest indicator of strong support for Fabricio from both community and conservative leaders. 
ON THE WEB:  www.TomFabricio.com
Paid by Tom Fabricio, Republican, for State Representative