Suddath®, a leading global transportation, relocation and logistics company, has announced that Chief Information Officer Len O'Neill has been selected as one of the Jacksonville Business Journal's 2020 Technology Leaders of The Year. O'Neill and other industry leaders are being honored for their exceptional impact across Jacksonville's growing technology sector.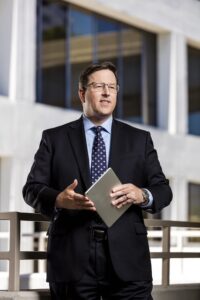 "Len's hard work and dedication have been invaluable to the company, and he has made his mark as a key member of the Suddath team and a leader in the technology industry," said Mike Brannigan, president and CEO of Suddath. "His innate talent and commitment reflect why he is so deserving of this recognition, and he is a big part of why Suddath continues to be recognized as a leader in technology."
The award recognizes top IT executives in Northeast Florida whose leadership, knowledge and skill with technology not only have helped grow their own companies but also shape the industry and impact the local community. Award recipients are selected by the Jacksonville Business Journal and the Northeast Florida CIO Council based on their innovation in strategic thought and planning, success in implementing technology solutions, management effectiveness and community involvement.
Under O'Neill's leadership, Suddath has received several awards for driving digital transformation in the moving industry. In June of this year, Suddath was recognized as one of the Computerworld 2020 Best Places to Work in IT, ranking in the top 10 midsize organizations to work for IT professionals. In 2019, the company received the Digital Edge 50 Award for its Estimator platform, which creates comprehensive move plans and pricing proposals with instant, guaranteed estimates. In 2018, Suddath won the CIO 100 Award for Tracker, its proprietary move monitoring system, which gives clients real-time visibility into their project moves.
"It's truly an honor to be recognized among such accomplished and well-respected individuals in technology," O'Neill said. "The Suddath team is made up of innovative and passionate people, and this award confirms how effectively we have made a name for ourselves in the technology sector. I value the difference we make for our clients and our community."
About The Suddath Companies
Suddath moves people, businesses and products.
The Suddath Company was established in 1919 and has grown into a nearly $600-million global transportation, relocation management and logistics company, serving 180 countries with 2,000 employees around the globe. With more than 30 locations and nearly 3 million square feet of warehouse space in the U.S., Suddath each year moves more than 80,000 households, including 30,000 military families, and is also North America's largest commercial mover. For more information, please visit suddath.com.