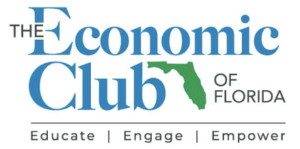 How he survived Hurricane Michael with rarely-seen pictures
Brian Stahl, Deputy Base Civil Engineer, will address Rebuilding Tyndall Air Force Base after Hurricane Michael Devastation in a speech before The Economic Club of Florida on Wednesday, August 26, from noon to 1pm, at the Governors Club in downtown Tallahassee. The base suffered catastrophic damage from Hurricane Michael, when it made landfall on October 10, 2018, one of only four Category 5 hurricanes in U.S. history. Wind gusts of 139 mph damaged or destroyed 480 facilities, causing $4 billion in damage. The base is home to the 325th Fighter Wing of the Air Combat Command.
Mr. Stahl was one of only 93 personnel who remained on base during the hurricane and will share his personal story, along with rarely-seen pictures of the storm and its aftermath. He is a key leader in not only the $300 million in repairs currently underway, but the broader master plan and design of the "Air Force Base of the Future," to take place over the next few years.
"Tyndall Air Force Base is Bay County's largest employer, with nearly 11,000 personnel and family members. A key part of the Panhandle's economic recovery will come from Tyndall's recovery and we look forward to hearing about this critical rebuilding plan," said Club President Bill Moor.
"Tyndall Air Force Base' recovery and resilience is a reminder to all of the important role our U.S. military bases play in Florida's economic resurgence," said Club Chair Cindy O'Connell.
Non-member guests are welcome to attend the virtual version of this address by contacting Michael Vincent at 850-906-9226 ext. 108, or by email at [email protected].
MEDIA NOTE: For media wishing instead to attend the live virtual webinar version of the August 26 address, please contact Michael Vincent at 850-906-9226 ext. 108, or by email at [email protected].
The Economic Club of Florida is the South's leading forum for speakers of regional and national distinction to discuss the major issues of the day. On the web at www.economic-club.com |@EconClubFL | Facebook.