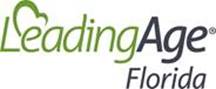 LeadingAge Florida recognized outstanding senior living communities, employees, and residents during its virtual 57th Annual Convention and Exposition held August 24-26, 2020.
"It is our honor each year to shine a spotlight on the best of the best in Florida senior living through our annual awards," said Steve Bahmer, President and CEO of LeadingAge Florida. "Their commitment to delivering the highest quality care is without equal, and it shows in their creativity, innovation, collaboration, and leadership. We are enormously proud of each of these individuals and communities for their dedication to excellence in caring for Florida's seniors."
The Chair's Award, one of the association's most prestigious awards, was presented to Connie Cheren, LeadingAge Florida's regulatory and compliance expert. Ms. Cheren was recognized for her service and expertise to senior living providers across the state during the COVID-19 pandemic. She has played an integral role in COVID-19 prevention, education and training, to ensure the continued safety and well-being of Florida's seniors.
LeadingAge Florida also recognized:
Caregiver of the Year – Catrina Jenkins-McTier of Menorah Manor, St. Petersburg, for her extraordinary dedication and commitment to enhancing the quality of life for residents within her community.
Distinguished Service – Garry Hennis of Westminster Communities of Florida, Orlando, for his leadership, foresight and decision-making to help guide Westminster Communities through the COVID-19 pandemic.
Emerging Leader – Joanne Freeborn of the Glenview at Pelican Bay, Naples, for making a difference in the lives of her residents through active listening, taking initiative to address concerns and solve problems, and by meticulous follow-through to ensure positive outcomes.
Employee of the Year – Karen Novak of Plymouth Harbor on Sarasota Bay, for her organization, decision-making and guidance to ensure the safety of staff and residents during the COVID-19 pandemic.
Executive of the Year – Carol Thomas of River Garden, Jacksonville, for her tenacious pursuit of excellence and her role in making River Garden a nine-time recipient of the prestigious Governor's Gold Seal Award for excellence.
Innovation Award – The Neshama Program of Menorah Manor, St. Petersburg, for providing respect, dignity and privacy for those nearing the end of life, allowing them to pass in a peaceful and home-like environment.
Resident / Volunteer of the Year – Sid Rooy of Penney Retirement Community, Penney Farms, for his work building carts for the mobility impaired, his fellowship services, his efforts to maintain and restore the on-campus duck population, and his work growing orchids and bringing them to residents in the nursing home.
Service Coordinator of the Year – Ana Zaragoza of Oak Leaf Landings Kissimmee, for her outstanding commitment to resident care and establishing a new in-house food pantry for residents, a medical transportation program, new exercise classes, and an onsite pet clinic.
Trustee of the Year – Gordon Metsky of the Aviva: A Campus for Senior Life Board of Trustees, Sarasota, for his work ensuring financial security for the community during the COVID-19 pandemic, his advocacy for the residents, and serving as an ambassador for the community's philanthropic efforts.
For more than 57 years, LeadingAge Florida has been the state's leading advocate for high-quality senior living, aging services and care. We are the only statewide association representing the full continuum of care for seniors. The Association provides up-to-date regulatory information, a wide variety of educational opportunities, representation before the Legislature and government agencies, group purchasing services, and opportunities for networking with peers to help member communities best serve the needs of Florida's senior population.