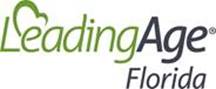 LeadingAge Florida President and CEO Steve Bahmer issued a statement regarding Governor Ron DeSantis' release of visitation guidelines for long term care facilities.
"In Florida, the state has prioritized seniors from the beginning and we're appreciative of the Governor's efforts to allow visitation in long term care facilities in a thoughtful way that protects the health of all residents, staff and visitors.
While providers have long used creative methods such as Skype, WhatsApp, and iN2L to prevent and mitigate the detrimental effects of isolation, visitation is critical to the total health and wellbeing of residents.
We are pleased that families will have the ability to reconnect with their loved ones, and the approach the Governor announced today paves the way to do so safely."
For more than 57 years, LeadingAge Florida has been the state's leading advocate for high-quality senior living, aging services and care. We are the only statewide association representing the full continuum of care for seniors. The Association provides up-to-date regulatory information, a wide variety of educational opportunities, representation before the Legislature and government agencies, group purchasing services, and opportunities for networking with peers to help member communities best serve the needs of Florida's senior population.