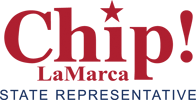 With the general election now in full swing, state Rep. Chip LaMarca ramps up his campaign operations with a TV and digital ad campaign. The first ad named "Whatever it Takes" highlights Rep. LaMarca's work to help families and businesses recover during COVID-19, for higher teacher pay and school safety funding, and his record on the environment and banning offshore drilling. The ad will be supported by heavy advertising spend on TV and across all digital channels.
Rep. Chip LaMarca said, "My record is clear. I've supported our small business community,  voted to ban fracking, and fund and protect our beaches. I have consistently supported our teachers and education choices for our families. But, we have more work to do. We need solutions to provide people and small businesses the support they need during challenging economic times. I firmly believe we must change how our unemployment system works. We cannot allow political stunts to stand in the way of success and by working together we can get it done. For the district, for Broward County, and for Florida."
To view the new ad click here.