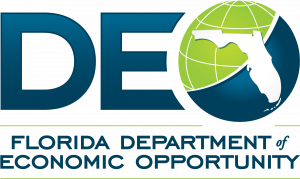 The Department of Economic Opportunity today announced Florida's unemployment rate for August 2020 dropped to 7.4 percent, down 4 percentage points over the month. Additionally, Florida's labor force increased 1.4 percent over the month, an increase of 143,000 Floridians entering the workforce. Florida businesses gained 46,000 private sector jobs over the month.
The August 2020 report showed encouraging indicators:
Florida lost 1,178,100 jobs from February to April 2020 and has since gained back over half of the jobs lost (+631,600 jobs).
The three industries losing the most jobs from February to April 2020, gained back 448,300 jobs from April to August 2020: leisure and hospitality (+278,500 jobs, 50.6 percent); professional and business services (+73,200 jobs, 48.5 percent); and education and health services (+96,600 jobs, 72.9 percent).
"Florida's job creators have faced significant challenges this year, forcing many of them to make difficult strategic decisions; however, today's employment data reflects their commitment to Florida families," said Dane Eagle, Executive Director of the Florida Department of Economic Opportunity. "Under Governor DeSantis' leadership, I look forward to protecting Florida's business friendly environment and working with our partners throughout the state to help improve the lives of Floridians, strategically invest in our communities, and transform Florida's economy for the future."
Florida Economic Indicators for August 2020 include:
Unemployment rate was 7.4 percent.
Labor force was up 143,000, or 1.4 percent, over the month.
Florida businesses gained 46,000 private-sector jobs over the month.
Florida's private-sector job creation over-the-year rate of decline of 5.8 percent was less than the national over-the-year decline of 7.4 percent.
Florida private-sector jobs were down 458,000 over the year.
Private-sector industries gaining the most jobs over-the-month were:
Education and health services with 21,400 new jobs;
Professional and business services with 9,600 new jobs;
Trade, transportation and utilities with 6,600 new jobs;
Other services with 4,500 new jobs; and
Financial Activities with 3,400 new jobs.
Consumer Sentiment Index was 78.4 in August 2020, 2.1 points lower than the July revised figure of 80.5.
To view the August 2020 jobs reports by region, please see below:<
Fort Lauderdale
Jacksonville
Miami
Orlando
Pensacola
Southwest Florida
Tampa
West Palm Beach
To view the August 2020 employment data visit www.floridajobs.org/labor-market-information/labor-market-information-press-releases/monthly-press-releases. Visit Florida Insight, for more information on labor market and economic data . Additionally, the Department has provided a video to assist users in explaining the data provided through Florida Insight and the new platform.
About DEO
The Florida Department of Economic Opportunity combines the state's economic, workforce and community development efforts, expediting economic development projects to fuel job creation in competitive communities and promote economic resiliency. For more information, including valuable resources for employers and job seekers, please visit www.FloridaJobs.org.