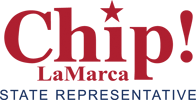 Florida Rep. Chip LaMarca (R-Lighthouse Point) today announced the support of Broward County School Board Member Lori Alhadeff for his re-election bid. Alhadeff's daughter was a victim of the Parkland shooting, and she pushed for major school safety legislation during the 2020 Legislative Session. House Bill 23, "Alyssa's Law," was co-sponsored by Rep. LaMarca and signed into law.
In a video message that can be found HERE, Lori Alhadeff said, "Chip LaMarca helped to get Alyssa's Law passed in Tallahassee, named after my daughter Alyssa who was tragically killed in the Parkland shooting, and that's why I support Chip LaMarca."  
The shooting hit close to home for Rep. LaMarca, whose district includes parts of northeast Broward County.
Rep. Chip LaMarca said, "I am honored to have the support of Lori Alhadeff and hope to make her proud of the work we do together to help families in Broward County. We worked across the aisle to co-sponsor Alyssa's Law, which paves the way for a digital panic alarm system to be installed in Florida Schools. Together, we put partisanship aside to honor Alyssa Alhadeff's memory through action."
Rep. Chip LaMarca also announced the endorsement of the South Florida Sun Sentinel in his re-election bid. The Sun Sentinel said, "Coastal Broward voters should return Rep. Chip LaMarca to Florida House."
Rep. LaMarca said, "I'm honored to have the support of the Sun Sentinel once again and I look forward to representing the residents in District 93 in the halls of the Florida Capitol for another term. My record is clear. I've supported our small business community, our environment, and secured funding to protect our beaches. I have consistently supported our teachers and educational choices for our families."
Rep. Chip LaMarca is honored to have the endorsement of firefighters, law enforcement, unions, and associations across the state, including the Associated Builders and Contractors (Florida East Coast), Associated Industries of Florida (AIF), the Broward Allied Medical Political Action Committee (BAMPAC), Broward County Council of Professional Firefighters, the Florida Chamber of Commerce, National Federation of Independent Businesses, Florida Realtors, Florida Professional Firefighters, the Fraternal Order of Police, IUPA 6020 – Broward Sheriff's Office Deputies Association, Broward County Professional Firefighters and Paramedics – Local 4321, Metro Broward Firefighters – Local 3080, National Utility Contractors Association, Fort Lauderdale Fire Rescue – Local 765, Pompano Beach Fire Rescue – Local 1549, and The Hispanic Vote. Rep. LaMarca is also honored to have the support of Florida's farmers.